Healing and Joy with Energy Medicine Yoga
With Lauren Walker
August 6 - 11, 2023
At the root of our desire to heal is our desire to feel joy again, to be exquisitely present and attuned to the nuances of our lives. During this program we'll learn about our inner state of joy and how it is always alive within us and how to re-activate it. By releasing energies that have made us sick, tired, unhappy, stressed and yes, traumatized, we can more easily access the love, happiness and peace that reside within. We will learn how to use the energetic powers of nature as tools for transformation: The magnificent healing power of the ocean, the divinity and grounding of the ancient trees, the sweetness of breathing the clear air – all while engaged in deeply nurturing, simple and accessible Energy Medicine Yoga practices that will leave you feeling empowered, healthy, vibrant and at peace.
Each day we'll focus on a different aspect of healing and joy. We'll experience the power of the external elements, amidst the majesty of the surrounding landscape and the power of the internal elements that are at play within us. There will be journaling, asana, breathwork and meditation, as well as rituals for increasing joy and healing somatic experiences while steeped in the natural landscape. This retreat promises to be a magical time together that will feed your soul while nurturing your sense of self and community.
Louis

Lauren's service dog, Louis, will attend the retreat as an emotional support animal. Louis plays a prominent role in Lauren's retreats, helping to facilitate healing and transformation. Louis is hypoallergenic and non-shedding.
Schedule
View your program schedule here.
Terms & Conditions
You may find our terms & conditions here.
Presenter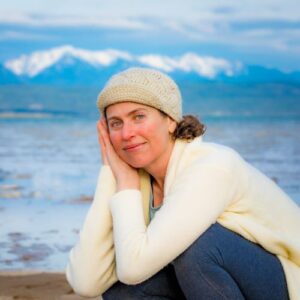 Lauren Walker
Lauren Walker is the author of The Energy to Heal (Llewellyn, 2022). She previously published Energy Medicine Yoga: Amplify the Healing Power of Your Yoga Practice (Sounds True, 2014) and The Energy Medicine Yoga Prescription (Sounds True, 2017). These two previous books won the Nautilus Silver award for best Mind/Body…
Learn more about Lauren Walker