SVI 25: Social Venture Institute (Online)
With Hollyhock Leadership Institute
October 13 - 16, 2020
"A profoundly life changing event. Hollyhock SVI raises your expectations of what success can be and connects you to those who can make your goals reality." – Patrice Mousseau, Satya Organic Skin Care
Social Venture Institute offers the mission-based entrepreneur an opportunity to share challenges, successes, and experiences with peers in an atmosphere of trust and goodwill.
Each attendee brings a commitment of social change to their enterprise, whether a for-profit business or a non-profit organization. Over 25 years, SVI has provided more than 3,000 entrepreneurs the opportunity to strengthen their business skills, network with other social enterprise leaders, and rejuvenate their passion and vision.
"SVI created the space for us, as directors of a large project, to attend to our values through our work, both at a high-vision level, and also through pragmatic issues, like developing a cash flow that could support these intentions. At SVI you will definitely develop the relationships you need to do the work you want to do. The people are in the room." – Duane Elverum, City Studio

---
Intentionally Designed to Foster Growth
The format of SVI is highly interactive and experiential. Participants present their business problems to a panel of experienced business leaders and fellow participants. In return, they receive advice, tools, and resources to strengthen and grow their enterprise in a socially conscious way. Based on evaluations and testimonials, participants uniformly reflect that SVI is one of the best investments they've made in growing their social purpose enterprises.
Supportive and Experienced Network
The combination of high quality mentors, a confidential and supportive environment, and a practical problem-solving format enables participants to acquire a rich portfolio of skills, a plan to grow their social purpose organization, and a network of contacts to support their enterprise. SVI participants are first or second-stage entrepreneurs who face challenges in growing an enterprise while maintaining a social mission.
Unique Format for Out of the Box Results
Take advantage of this opportunity to fine tune business strategies, learn best practices for solving problems, and build long lasting relationships with business peers and mentors. Get direct feedback for your current business challenges from a faculty of successful socially responsible enterprise leaders. Hear inspiring True Confessions – personal stories from experienced entrepreneurs and their struggles to reach success combining social mission with business.
At SVI:
Share innovative ideas to help improve the way you manage, promote, and finance your businesses and projects
Build a stronger sense of community, cooperation, mission, and effectiveness
Experience the deep rejuvenation integral to the learning journey
This program is for CEOs, Executive Directors, Founders, key staff, social entrepreneurs, and emerging leaders of all kinds.
SVI for me was full of surprises. While I anticipated the learning and programming, what I found remarkable was being surrounding by so many truly authentic individuals. – Stephanie Vellins, Harris & Company
---

Presenter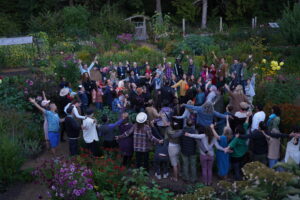 Hollyhock Leadership Institute
Hollyhock's renowned events help to resolve the leadership deficits of the modern world. These cross-sectoral and multi-generational gatherings work to support and catalyze progressive leaders through strengthening skills, expanding capacity, and building peer-to-peer networks and knowledge. Tackling the largest issues of our time and promoting social and environmental justice requires…
Learn more about Hollyhock Leadership Institute