Social Venture Institute – Hollyhock (Registration)
With Hollyhock Leadership Institute
September 27 - October 1, 2023
If you believe that business can (and should) be a catalyst for social and economic transformation, apply now to join us at Social Venture Institute (SVI) Hollyhock 2023. This program is for CEOs, Executive Directors, Founders, key staff, social entrepreneurs, and emerging leaders of all kinds.
Join social entrepreneurs for an intensive, interactive inquiry into how to face the day-to-day challenges of running a socially conscious enterprise. Take advantage of this opportunity to fine tune business strategies, learn best practices for solving problems and build long lasting relationships with business peers and mentors. For nearly 30 years SVI Hollyhock has gathered CEOs, entrepreneurs, changemakers, and investors who have a vision of business as a force for good. This year 100+ people, who care about humanity and the planet and who see the urgent need for significant social change, will come together for a 5 day gathering on the land.
Hear inspiring True Confessions, more than a keynote these are personal stories from experienced entrepreneurs and their struggles to reach success combining social mission with business. Along with speakers SVI features interactive case studies, skill building workshops, peer learning and connection to the SVI community.
2023 Speakers Include: 
Hli Haykwhl Ẃii Xsgaak, Melanie Mark; Ahmed Rahim of Numi Organic Tea; and a social finance panel featuring Esther Park; Kristin Hull; and Dawn McGee
Past SVI True Confessions speakers include: Rha Goddess (Move the Crowd), Paul Lacerte (Raven Capital Partners), Scott Hawthorn (Native Shoes), Rue Mapp (Outdoor Afro), Ratana Stephens (Nature's Path), Charles Chang (Vega Protein, Lyra Growth Partners), and Akaya Windwood (Rockwood Leadership).
Our flagship gathering, SVI Hollyhock, occurs annually on the majestic lands of Cortes Island, the traditional territories of the Klahoose, Tla'amin and Homalco First Nations.  Enjoy gourmet cuisine, sailing, kayaking, and bodywork while in this magnificent wilderness setting. To find out more about Hollyhock and the Social Venture Institute, visit: www.hollyhock.ca/svi
"I feel like my soul has landed back in my body! My intention for this week was to feel "less alone" in the work I'm trying to do and SVI delivered! There ARE people who think like me and want to make a difference! The land here has a palpable vibration, sleeping in my tent I felt myself recharging each night up in the forest. Thank you to SVI for the soul recharge!" -2022 Participant
SVI gets us off the treadmill of our usual business life, but at the same time invigorates and enhances our professional efforts. Amidst the spectacular backdrop of Cortes Island we'll have a chance to:
build a stronger sense of community, cooperation, mission and effectiveness;
strengthen the connection among mission-based entrepreneurs and non-profit ventures; and
create an environment for innovative ideas to help us better manage, promote and finance our businesses and projects.
For more information about SVI Hollyhock, click here. Scholarships are available, please apply here if finances are a barrier to your participation.
---

Presenter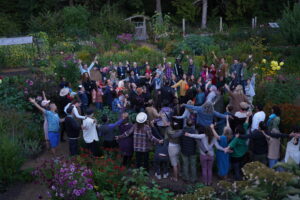 Hollyhock Leadership Institute
Hollyhock's renowned events help to resolve the leadership deficits of the modern world. These cross-sectoral and multi-generational gatherings work to support and catalyze progressive leaders through strengthening skills, expanding capacity, and building peer-to-peer networks and knowledge. Tackling the largest issues of our time and promoting social and environmental justice requires…
Learn more about Hollyhock Leadership Institute