Psoma with a P: The Heart and Soul of Hakomi
With Donna Martin & Shelley Winton
October 15 - 22, 2023
How can we assist someone on their healing journey without any suggestion of something wrong, something to fix? Can we recognize healing as an inside job… the unfolding of intrinsic wholeness, rather than a return to wholeness? Is it possible to be the kind of presence that is itself a powerful healing gift? What do we really mean by loving presence?
Psoma is Donna Martin's unique version of the Hakomi Method, which she inherited from Ron Kurtz. After working closely with him for more than 20 years before his death in 2011, she was named in his will as one of his "legacy holders". Since then, Donna has continued to revise and refine the way she practises and teaches this approach to what Ron called "mindfulness-based assisted self-discovery"—what Donna now calls "Psoma with a P".
Psoma comes from the Greek soma for body, and ps as in psyche for mind/spirit. Psoma is a mind/body/spirit approach to healing as wholeness happening. Psoma is an even more somatic approach than Hakomi as it is usually taught. Donna's lifelong yoga practice informs this version. Rather than therapy, Donna teaches psoma as assisted healing. Rather than mindfulness, Donna refers to wakefulness as the present-centered awareness that allows for choice and new possibilities.
Rather than finding a missing experience, in psoma we are participating in the discovery and experience of one or more new possibilities. These and other changes arise from the principle of non-violence (ahimsa in yoga) that deeply informs the psoma approach. In this week-long psoma intensive, participants, with or without Hakomi experience, are invited to experience their own healing as a journey of remembering wholeness and participating in another's healing as a profound gift of grace.
Schedule
View your program schedule here.
Terms & Conditions
You may find our terms & conditions here.
Presenter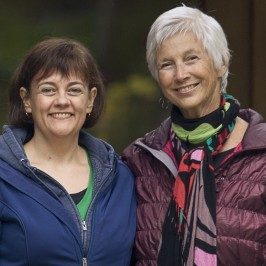 Donna Martin & Shelley Winton
Donna Martin, MA, has taught yoga and meditation internationally for more than 50 years and Hakomi for more than 30 years. Psoma is Donna's original healing approach based on an integration of Hakomi, yoga and mindfulness. She  is the author of Psoma Yoga Therapy: Tapping into your Embodied Wisdom and…
Learn more about Donna Martin & Shelley Winton