Drawing Towards the Earth: Making Journals for Life
With S. Portico Bowman
July 19 - 23, 2023
Learn how to draw and make art with natural earth elements provided by nature. We will make paper with abaca, bast and stock from the Hollyhock garden. We will cook our own vine charcoal, and take this to the paper, or twigs and tools to the beach for more performative interpretive drawing. And look within for what must be expressed. The scope can be large, expressive, wild and ephemeral, or studied, close, small and collected. Your choice will be my direction. However, the framework will guide us to a completed Coptic stitch journal, or a self-portrait in 2 or 3D. Handmade paper lends itself to interesting sculptural possibilities. All of these natural mediums lend themselves to our innate calling to create.
Everyone can draw, we just need to tap into the creative frame of mind and know how to look. Hollyhock's garden and surroundings will inspire design, inform creative direction, and be the source of papermaking materials, and dye baths for the paper.
Inspired by multidisciplinary artist Paulus Berensohn (1933-2017), we will make coptic stitch Arcadia Playhouse journals and you will learn the basics of the Bargello tapestry technique for a bookmarks. By designing within your own finite coptic stitch journal, it will become a template to record your infinite "inscape", creating within your own creation. The Bargello tapestry stitch is a process that lends itself to contemplation through intricacy and detail.
Drawing, making, touching, marking, movement, and stitching represent the activities we will do; they also highlight the beauty of interconnectivity. The creative pace will be contemplative, meditative and introspective.
Most, if not all, of the activities will be done outside.
Schedule
A detailed schedule will be available 1-2 weeks in advance of the program. View sample schedule here.
Terms & Conditions
You may find our terms & conditions here.
Presenter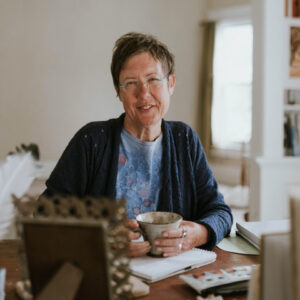 S. Portico Bowman
S. Portico Bowman is an author, artist and Professor of Art (Emerita) at Pittsburg State University. She is currently working on the book Would You Give Up Arms for Wings, a story inspired by the visionary life and writings of Paulus Berensohn. That writing project has inspired this class, received…
Learn more about S. Portico Bowman