Unwind: Yamuna® Body Rolling & Essential Somatics®
With Namchi Bazar
June 26 - 30, 2022
Release pain and restrictions for a total body awakening and rejuvenation. 
Explore two modalities to support your journey of self-discovery and self-healing. Let go of unproductive holding patterns as you develop effective body-wellness routines that are easy to incorporate into your home practice. Focus on foundational movements that help you exercise without pain.
Namchi's classes have been a life line for me. She holds space for powerful physical work and her classes are consistently fun, informative, and rejuvenating. I have noticed lasting change in my body since I began working with her, specifically regarding chronic back pain that I have had for years. Thank you for helping my body get stronger Namchi! – Hayley Newell, participant
Yamuna® Body Rolling is a workout, a massage, and a whole-body adjustment rolled into one. The specially designed balls help to improve alignment, enhance bone quality, and offset the stress of repetitive movements.
Essential Somatics® practice establishes a new level of self-awareness and re-trains the communication between the brain and the muscles, restoring coordinated movement, mobility and relieving pain.  Learn gentle movements that will free muscular restrictions and give you the tools to manage chronic stress responses.
I couldn't be happier! My chronic pain is gone. Sharp pain in my chest that I've had for years is almost gone.  I am calmer and more in the present moment.  I am very grateful you shared your experience and love with us.  You are an exceptional teacher and lovely person. – Izabela, HH workshop participant
This workshop includes:
Movement practices to reset and rebalance your body and nervous system.
Tools to free accumulated habitual muscular tension.
Gain awareness of stress-response reflexes, how they affect you, and what to do about it.
Discover the root causes of your pain and learn to manage and release it.
Strategies to manage pelvic floor function & restore the synergy of your core.
Help creating a personal home practice.
Fun with experiential anatomy.
Align, define, and redesign your inner and outer self.
This program is for anyone looking to shift themselves into wellness.
Equipment
Body Rolling Kit required. Includes 4 balls (Gold, Pearl, 2 Black) and is available for purchase through the instructor. Bring your own balls or email [email protected] if you are interested in purchasing a kit. Balls will be available on the first evening of the program.
Schedule
Terms & Conditions
You may find our terms & conditions here.
Health & Safety
Learn more about Hollyhock's current health and safety policies here.
Presenter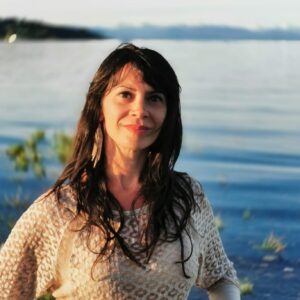 Namchi Bazar
As a movement specialist with over 20 years as a professional dancer, Yamuna® Body Rolling Practitioner, Pilates Instructor, and Essential Somatics® Movement Educator, Namchi Bazar empowers people to self heal.  As a mother of three, she understands the need for effective self-care techniques that feel great, restore balance and can…
Learn more about Namchi Bazar