Heart of the Condor: Andean Wisdom Teachings
With Jhaimy Alvarez Acosta
September 7 - 11, 2022
Connect deeply with your heart and the essence of who you truly are in this transformative retreat with traditional Curandero (Healer) Jhaimy Alvarez-Acosta from Cusco, Péru.
Ground yourself in the ancient wisdom teachings of the Andes while discovering the keys to harmonizing the three bodies: the mind (serpent), body (puma), and soul (condor).
In this intimate program, Jhaimy shares the teachings of his Elders and Ancestors as connected to the Sacred Temples of Péru and the Apus – Mountain Spirits, and how the lessons will be applied to our everyday consciousness. Connecting to our hearts, to Mother Earth, and to the Cosmos through traditional Indigenous knowledge, which has been passed down through generations since time immemorial.
These teachings are a remembrance of Ancestral Consciousness and a gift for the evolution of humanity. Through story, ritual, and a deep reverence for Mother Earth/Pachamama, Jhaimy will weave together a beautiful healing journey for each individual while celebrating the importance of learning together in community.
Heart of the Condor: Andean Wisdom Teachings is an unique experience and transmission of Sacred Knowledge; bringing about harmony, a sense of well-being and inner connection to those who are a part of each gathering.
I've had the privilege of working with several shaman and healers from around the world. None surpass the wisdom, love and innate healing skills of Jhaimy Alvarez- Acosta. As a guide and healer on our annual pilgrimage to Machu Picchu, Jhaimy has helped hundreds of our fellow travelers enrich their lives through his sharing of the spiritual teachings of the Andes. – Chip Duncan, filmmaker
Program format
This retreat is experiential and immersive and is intentionally dynamic and fluid through the energetic transmissions of oral history and traditional wisdom-teachings. Jhaimy's work is powerfully heart-centred and comes from a place of valuing presence in the moment and protocol that is both reflective and responsive to the group that is choosing to gather at this particular time.
A special note that while Jhaimy carries the traditional teachings and experience of working with plant medicines in Peru for over 30 years that this retreat will not be focused on that experience. He is, however, very open to answering any questions that participants might have about working with Plant Masters for personal development, healing and to support them in navigating that journey.
Schedule
A detailed schedule will be available 1-2 weeks in advance of the program. View sample schedule here.
Terms & Conditions
You may find our terms & conditions here.
Health & Safety
Learn more about Hollyhock's current health and safety policies here.
Presenter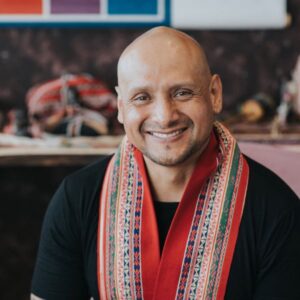 Jhaimy Alvarez Acosta
Jhaimy Alvarez Acosta is a Traditional Curandero (Healer) from Cusco, Peru who has been trained and initiated in the wisdom teachings of the Northern region of Peru, home to the ancient lineage of the Sacred Plant medicine known as Wachuma or San Pedrito. Jhaimy began his initiation onto this path at a young age and has apprenticed with Master Teachers in the Alchemical mystery teachings of transformation and transmutation. As a keeper of Ancient Wisdom, he has been invited to share his knowledge and lead ceremonies at conferences, workshops and specialized tours throughout Péru, Bolivia, Chile, Brazil, and most recently,…
Learn more about Jhaimy Alvarez Acosta