Drawing Towards the Earth: Making Journals for Life
With S. Portico Bowman
July 12 - 16, 2020
This program will either be moved to a virtual gathering, be rescheduled to another date in 2021, or cancelled. 
We are currently working out all the details. We apologize for the inconvenience and thank you so much for your patience, support, and understanding.
Sign-up to be notified when we have more information confirmed. You may also find details on Hollyhock's response to the COVID-19 pandemic here.
---
Learn how to draw and work with natural earth elements inspired by nature. Some of the mediums we will encounter include graphite, charcoal, and red ocher. These natural mediums lend themselves to our innate calling to create.
Everyone can draw, we just need to tap into the creative frame of mind and know how to look. Hollyhock's garden and surroundings will inspire design, inform creative direction, and be the source of papermaking materials.
Inspired by multidisciplinary artist Paulus Berensohn (1933-2017), we will make coptic stitch Arcadia Playhouse journals and Bargello tapestry bookmarks. By designing within your own finite coptic stitch journal, it will become a template to record your infinite "inscape", creating within your own creation. The Bargello tapestry stitch is a process that lends itself to contemplation through intricacy and detail.
Drawing, making, touching, marking, and stitching represent the activities we will do; they also highlight the beauty of interconnectivity. The creative pace will be contemplative, meditative and introspective.
Most, if not all, of the activities will be done outside.
I'll always remember time spent with you as both challenging and rewarding. Thank you for being such a lovely person and inspirational model. You have taught me how to be an artist and an educator. – K. Baldetti
Feature Photo Credits: Coptic Stitch Journal by Madie Fleming. Paper: S. Portico Bowman, The Arcadia Playhouse: Making Journals For Life: Students. Pittsburg State University. Image: S. Portico Bowman
---
Get a taste of the inspiration Paulus Berensohn in this trailer about his life and work:
Presenter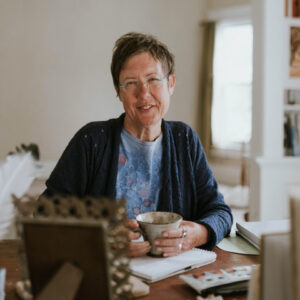 S. Portico Bowman
S. Portico Bowman is an author, artist and Professor of Art (Emerita) at Pittsburg State University. She is currently working on the book Would You Give Up Arms for Wings, a story inspired by the visionary life and writings of Paulus Berensohn. That writing project has inspired this class, received a Canada Council for the Arts Professional Development Award, and occupied her wildest dreams for the past four years. Her first novel, Cashmere Comes From Goats is forthcoming May 2022 with Stonehouse Publishing. Portico currently lives in San Diego, CA with her husband Tom, and their very understanding cat, Florence.…
Learn more about S. Portico Bowman