Hollyhock Rest & Restore
With Hollyhock Leadership Institute
June 21 - 25, 2023
Breathe in. Breathe out. Let the natural wisdom of Cortes Island relax and restore your body and soul. Enjoy the healing experience of the ocean and forest while you indulge in time for yourself to connect with the natural world.
Your package includes:
Four nights of accommodation at Hollyhock (see campus rates).
Three meals daily from our organic kitchen, menus inspired by the seasons of the garden and designed to bring you closer to the land and sea.
Spa Credit – TWO 90 min healing arts sessions with our highly skilled practitioners to rejuvenate your spirit.
Daily optional meditation and Yoga practice.
Guided Forest Bathing
Guided Hollyhock Garden Tour
Guided Ocean cold plunge and Hot Tub experience
Evening Star Gazing
Schedule
Detailed schedule coming soon.
Terms & Conditions
You may find our terms & conditions here.
Presenter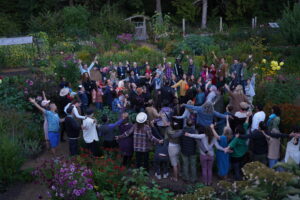 Hollyhock Leadership Institute
Hollyhock's renowned events help to resolve the leadership deficits of the modern world. These cross-sectoral and multi-generational gatherings work to support and catalyze progressive leaders through strengthening skills, expanding capacity, and building peer-to-peer networks and knowledge. Tackling the largest issues of our time and promoting social and environmental justice requires…
Learn more about Hollyhock Leadership Institute