Andean Wisdom: Deepening Your Relationship with the Four Elements
With Jhaimy Alvarez Acosta
August 20 - 25, 2023
Weaving together Andean Wisdom Teachings, Ritual, Healing Meditation, and Intentional Practice, this 5-day retreat will provide you with powerful tools to transform and expand your life in beautiful ways. Working with the laws of nature allows for an abundant flow and grace to come into each day.
This retreat is an invitation to embrace your personal connection to the four elements to bring balance, harmony and empowerment to your life in a magical and profound way.
Learn traditional Indigenous wisdom teachings from the Andes of Peru in a focused, grounded and heart-centred way. We will have the gift of time and space to learn, practice and experience ritual and spiritual processes to support us in connecting more deeply with each of the elements. We will also have the gift of spaciousness throughout our time together to learn from the natural world around us on beautiful Cortes Island.
Each of the elements holds a specific vibration and healing quality. When we listen deeply and allow ourselves to open to the unique teacher that each Element is we find pathways towards creating a stronger relationship to self, to Mother Nature and to all our relations.
"I've had the privilege of working with several wisdomkeepers and healers from around the world. None surpass the wisdom, love and innate healing skills of Jhaimy Alvarez-Acosta. As a guide and healer on our annual pilgrimage to Machu Picchu, Jhaimy has helped hundreds of our fellow travellers enrich their lives through his sharing of the spiritual teachings of the Andes." – Chip Duncan, Filmmaker
Earth teaches us to embrace the energy of creation and re-creation. Reminding us that there is always an abundance of creation being produced in each moment of each day.
Water allows us to understand the power of cleansing and of purity. Embracing the energy of Water allows for more clarity and flow in our lives.
Air brings expansion and freedom to our existence. Allowing us to expand our vision and awareness in greater ways.
Fire has the power to transform and transmute everything. To harness the energy of alchemical transformation.
This retreat is open to all. It may be of particular interest to those who have a spiritual practice that they would like to compliment with additional teachings and guidance on how to connect and work more deeply with Mother Nature and the Four Elements.
For more information about Jhaimy's lineage, his work and offerings please visit: www.childrenofthe7rays.com
"I would highly recommend Jhaimy's workshops to anyone seeking to expand their knowledge and personal experience of ancient teachings. His teachings and methods are personal and from the heart, drawing from his ancient traditions with openness, sincerity and honouring of the Earth." – Dorothy
Schedule
A detailed schedule will be available 1-2 weeks in advance of the program. View sample schedule here.
Terms & Conditions
You may find our terms & conditions here.
Presenter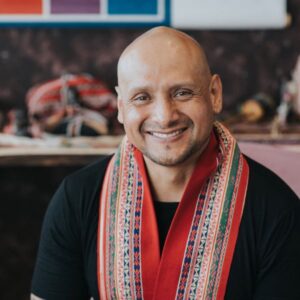 Jhaimy Alvarez Acosta
Jhaimy Alvarez Acosta is a Traditional Curandero (Healer) from Cusco, Peru who has been trained and initiated in the Wisdom Teachings of the Andes.  Jhaimy began his initiation onto this path at a young age as an apprentice to his Traditional Elders and has now walked the committed path of a Wisdomkeeper…
Learn more about Jhaimy Alvarez Acosta