BE-LONGING: A Reverent Partner Dance Experience
With Malina Dawn and Wren LaFeet
September 13 - 17, 2023
O keep squeezing drops of the Sun from your prayers and work and music
And from your companions' beautiful laughter, And from the most insignificant movements
Of your own holy body. Now, sweet one, Be wise.
Cast all your votes for Dancing!
-Hafiz
Let's gather around the fire of community and learn to connect through longing, devotion, reverence and right relationship to self, other and land. Experience partner dance like you never have before. Through a blend of culturally informed movement medicines, comes Be-Longing. Through powerfully attuned inner listening and connection to self we can step into a co-creative dance experience guided by embodied consent principles. Consider this experience an exploration into the reverent dance we refer to as "the inner dance"; a place where the experience of profound connection to self, each other, and all of life appears. This is the dance that happens within; when the dancer allows themselves to BE DANCED.
Through indigenous ways of life, we know that longing to belong to ourselves, each other, earth and the ineffable is a core desire most humans share. In this human experience, it is far too common to feel lonely and disconnected. Oftentimes we suffer in silence and isolation. Be it cultural, ancestral, familial reasons, it is terrifying and depressing to the Spirit to suffer the trials of life thinking we are alone in it. The medicine for this dis-ease is belonging and re-connection. There are many doorways of connection, and in this unique container we explore the pathways of Yoga and partner dance to bring us together for personal and collective connection and wellness.
The retreat will focus on cultivating a connection to self as the starting point for connection with others. The embodied teachings of consent, listening, supportively structured movement, authentic expression, yoga asana and breathwork will be bolstered by reverence, devotion and fun as we approach this inner dance space.
Each day will be filled with yoga asana to create deep connection to yourself and your breath, Cocréa's unique dance workshops, somatic breathwork to integrate the dance workshops, circles for shares and inquiry, traditional drum songs to open the voice and optional cacao on the last community dance night of the retreat. This is not just a retreat experience, but a movement culture we are inviting you to be part of co-creating with us.
This retreat is for you if you:
Feel excited to connect to a more embodied version of yourself
Are stoked to develop your dance language
Want to know what a safe, brave and consent-informed culture looks like on the dance floor
Want to be part of a wider community dedicated to consensual interactions on dance floors
Want to broaden your vocabulary around consent
Believe embodying Joy and reverence is a powerful act of reclamation for self in society
Are a couple who want to ignite your passion, intimacy and playfulness
Are single and wanting to connect in nourishing, authentic community settings
Challenges you might be working with that we're stoked to support you in:
Are you yearning for deeper connection in community?
Are you struggling with feelings of isolation?
Do you feel constricted and calcified in your body?
Does the idea of "dancing" feel scary and unattainable?
Is your breath right now feeling shallow and quick?
Would you like to experience greater ease and grace in your day to day experience?
Are you longing for a deeper connection to your heart and ways to feel the hearts of others?
What you'll leave the retreat with:
A new experience of movement and dance in your body
A greater understanding of what consent looks, sounds and feels like which can be applied to all areas of life
The power of breath in connecting to yourself, others and land
Self knowledge in how to work with your personal energy to connect to yourself and others in welcome ways
An opened body, heart, mind and spirit
A greater sense of connection to all of life
And likely a bunch of new friends
Schedule
A detailed schedule will be available 1-2 weeks in advance of the program. View sample schedule here.
Terms & Conditions
You may find our terms & conditions here.
Presenters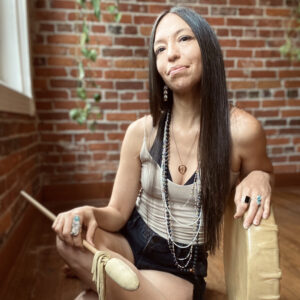 Malina Dawn
Malina is a queer nehiyaw-ahpihtawikosisān iskwew (Cree Métis woman) who weaves together, the worlds of indigenous wisdom and yogic knowledge. Raised on the prairies and well travelled through her young adult years, she found her own healing path through Yoga and the Red Road.  Through reclaiming her culture and applying the…
Learn more about Malina Dawn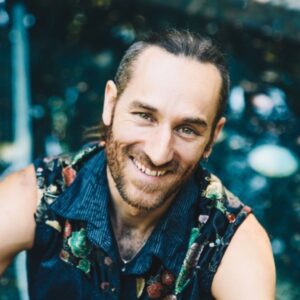 Wren LaFeet
Wren LaFeet is celebrating entering his 24th year dancing in partnership and loves serving humanity as a somatic permissionary. Teaching partner dance internationally as a practice for mindful, authentic living, and enlivening communities by facilitating his signature modality, Cocréa, has been his joy for over a decade. Using this potent…
Learn more about Wren LaFeet