A Training in Lateral Liberation
With Kim Haxton
August 25 - 30, 2023
We are living in a time of high contrast. Collectively we sit on the verge of creation and destruction.
Challenges to planetary well-being have never been more evident and creating opportunities for positive, actionable change has never been more vital.
Join me as we explore Indigenous concepts of land, place and decolonization.
This program will examine decolonial practices (language, art, economics and gender) combined with embodied knowledge of Indigenous peoples, learning the ways that centering this knowledge can rupture the politics of what is considered valid "knowing."
This program is intended to equip you with the right tools for moving with gentle fearlessness and fierceness, holding the paradox in our lives, building connections with ourselves, the natural world and each other.
Through collaboration and group process in conflict resolution, experiential activities (singing, dancing, storytelling, connecting to nature, laughter, sharing meals and connecting to nature), participants will leave with a clearer sense of purpose, capacity and connection to these relationships to liberate the invisible beliefs and biases that separate us from being able to make structural shifts in de-centering the dominant paradigm to healthy living.
Join us on the beautiful territories of the Klahoose in August. Together we will learn to laterally liberate consciousness.
Schedule
A detailed schedule will be available 1-2 weeks in advance of the program. View sample schedule here.
Terms & Conditions
You may find our terms & conditions here.
Presenter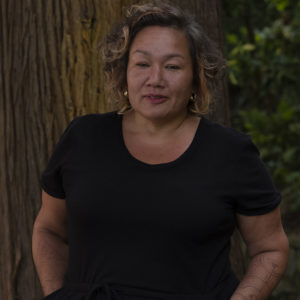 Kim Haxton
Kim Haxton (Potowatomi) is from the Wasauksing First Nation in Ontario. She has worked across Turtle Island and abroad in various capacities but always with a focus on local leadership. Her deep understanding of the need for genuine restoration has far-reaching implications as leaders seek vision and all people seek…
Learn more about Kim Haxton