Painting Between Person and Place
With Jeremy Herndl
August 2 - 6, 2023
Painting outdoors (or plein aire) was popularized in the mid 19th century with the advent of portable paint in tubes. It was the latest, most radical departure from the standard academic practices at the time as it sought to represent the realities of contemporary life in the industrialized West in contrast to ideals still perpetuated in the academies and the tastes of the status quo. Pleinarism in many ways was the foundation of modern painting.
In the 21st century, confronted with myriad new realities, a return to pleinairism once again may be a radical departure from the currents in contemporary art practice. In contrast to the speed and "connectedness" of the technological age, pleinairism asserts the sovereignty of our attention and situates the painter directly in the context of the painting.
If we think of looking as a tactile experience, feeling textures, sensing the space between things and painting also as an act of touch, observational painting becomes a kind of synesthetic and reciprocal conversation with place. Place and people have always shaped each other, nature and culture are inextricably linked and when we engage with place, we also engage with our common history with the natural world, in this workshop we will explore the possibility that painting serves this mutual agency.
This workshop will feature an introduction about painting outdoors, its history and precedents, philosophical and social implications in today's context. There will be daily group critiques on the progress of work as well as individual feedback and instruction (when requested). The structure of the workshop will start with a brief daily meeting and then proceeding to the locations being painted for the duration of the day. Each member of the workshop including me will endeavour to make one or maybe two small paintings (approx. 16×20 inches) over the duration of the workshop. The emphasis will be on painting as an interaction with place and objects over longer periods of time through different light and weather conditions.
This workshop is recommended for painters with some experience, intermediate and advanced.
Supplies
Artists are required to bring their own materials, including portable easel, paints, pallet, etc. Full list will be shared upon registration.
Schedule
View your program schedule here.
Terms & Conditions
You may find our terms & conditions here.
Presenter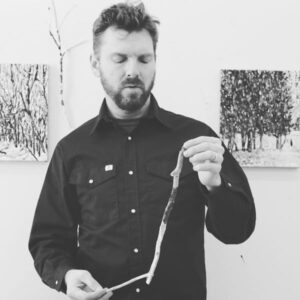 Jeremy Herndl
Jeremy Herndl was born in Surrey, BC and has lived across Canada and abroad. He earned his BFA from the Nova Scotia College of Art in Design in 1996 and his MAA in Painting at Emily Carr University in 2011.  
In recent years, Jeremy has received funding from the Canada…
Learn more about Jeremy Herndl