Reconnect with Breathwork and Earth Medicine
With Ariana Fotinakis
September 22 - 27, 2023
Reconnect to your true nature with breathwork and earth-based practices rooted in Indigenous wisdom.
Modern life has left us disconnected from ourselves, our communities, and from the land. Our planet and communities are hurting, and the healing process begins as an individual journey. Embark on your healing path as you explore your own personal medicine wheel and move through the four directions and their corresponding elements and archetypes.
A daily conscious connected breathwork ceremony combined with creative, land-based practices and time for rest and relaxation will expand your mind, open your heart, nourish your body, and strengthen your spirit.
The decolonial journey will also be explored, with a compassionate look at how colonization has impacted both Indigenous and non-Indigenous Kin. Connect with the medicine of your own ancestry as you learn how to move forward in a good way.
Schedule
A detailed schedule will be available 1-2 weeks in advance of the program. View sample schedule here.
Terms & Conditions
You may find our terms & conditions here.
Presenter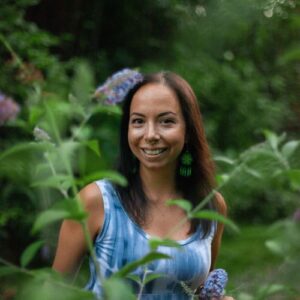 Ariana Fotinakis
Ariana Fotinakis (she/her) is a woman of mixed Anishinaabe and Greek descent. As a trauma-informed somatic coach and breathwork facilitator, Ariana brings a grounded, gentle, and compassionate approach to supporting her clients in their healing journeys. She uses breathwork, somatic healing, drumming, & earth-based teachings to help her clients rekindle…
Learn more about Ariana Fotinakis