The Song & Dance of the Drum at Olatunji Hall
With Gordy Onayemi Ryan and Zoë Ryan
July 28 - August 2, 2023
Bumbamba! – Celebrate Life! Activate the Fire in your hands, the Beat in your feet, and the Song in your Heart on this Soulful journey in Rhythm at the Olatunji Hall.
We will drum, dance, and sing inside the iconic Olatunji Hall and outside the Hall in the circle of tall fir trees; an experience to blow away the blues and become One with the Spirit of the Drum. Our journey includes music and dance brought to us by Olatunji and the Drums of Passion, rhythms from the Mandingue Culture, Afro Cuban music, New Orleans music, and Funk. All are welcome, beginner to advanced. Everyone has a place in this Band.
Please join us in this Celebration!
"Know the Roots, Feel the Groove, Be in the Swing, Play in the Pocket" – Gordy Onayemi Ryan
Babatunde Olatunji came to Hollyhock with his core group – which included Gordy and Zoe – in the summer of 1990. He continued to come to this place he loved for 10 years. Baba and Professor Akinsola Akiwowo blessed the Hall and its surrounding Forest with Yoruba ceremonies when it was near completion in 1999. Since then Gordy and Zoe, with members of the Drums of Passion, have presented Rhythm and Dance in the Hall every summer but one – 33 years at Hollyhock!
Children, age 9 and older are welcome to attend. Please email [email protected] for more details.
Schedule
A detailed schedule will be available 1-2 weeks in advance of the program. View sample schedule here.
Terms & Conditions
You may find our terms & conditions here.
Presenters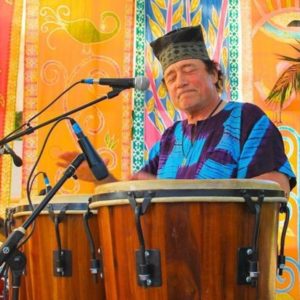 Gordy Onayemi Ryan
Gordy Onayemi Ryan has laid down the groove for the Olatunji Drums of Passion for decades as well as for Gabrielle Roth, Zhikr Rituals, movie scores (including Spike Lee and Eddie Murphy),and many more great artists in his career. obatheband.com Read my blog on Hollyhock Talks
Learn more about Gordy Onayemi Ryan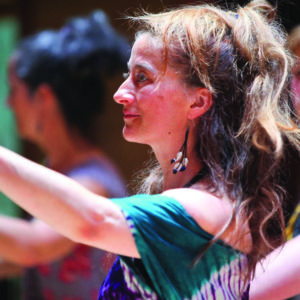 Zoë Ryan
Zoë Ryan has journeyed deep into modern, shamanic and West African dance. It is her joy to bring the transformative nature of dance to people of all ages. She trained in dance education at the Rudolph Laban Centre in London and has an early background in Shakespearean Theatre. She apprenticed with…
Learn more about Zoë Ryan