Nitõtitān – Let's Listen: A Yogic retreat to deepen connection to self, community and Land
With Malina Dawn
June 30 - July 5, 2023
Nitõtitān is a Cree word meaning 'Let's listen'.
Listening deeply is key to living in balance. Living in balance means we are not only taking good care of our selves, but being an active and willing participant in life. We take care of our communities, the earth and all our relatives. When we are present and clear the debris of the mind, we can then listen and this listening allows us to learn where we are out of balance in any of these areas and make the changes necessary to live a joyful and fulfilling life centred in service. When we are in a state of present moment listening, we can hear the breath of our ancestors and instructions meant for us to live a meaningful life.
In this 5-day immersion on toq qaymɩxw (Klahoose), ɬəʔamɛn qaymɩxw (Tla'amin), and ʔop qaymɩxw (Homalco) Nations territory, expect to dive deep into contemplation and relationship with land and self through yogic and Cree cultural teachings. Practice daily silence and slow down using yogic technology and learning indigenous ways of being to connect to yourself, your community and the Earth.
You will have two daily practices consisting of Hatha, yin/restorative, pranayama (breath work), japa (chanting) and meditation. Each practice is designed to bring you through emotional processing and into self reflection, contemplation. acceptance and stillness. There will be a drum circle and land based rituals and meditations through our time together. We will take time to connect to and honour the land and the waters of this beautiful territory through the teachings.
Cultivate a stronger and deeper practice in your daily life by utilizing the teachings and the practices of Yoga and connection to land. Integrate stuck emotions/grief, heal and accept your past, create clarity in your mind, refresh and invigorate your physical body and create radiance, faith and love in your heart and Spirit. This is a rich and immersive experience for those who wish to feel deeply connected to themselves and all of Creation.
Private Sessions
Students can book private sessions with Malina during the program to get insight into what practices or changes can help them create the transformation they desire in their lives.
Schedule
A detailed schedule will be available 1-2 weeks in advance of the program. View sample schedule here.
Terms & Conditions
You may find our terms & conditions here.
Presenter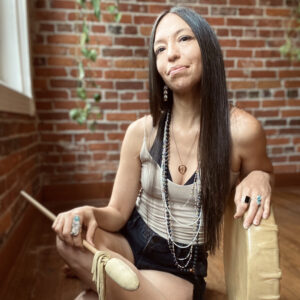 Malina Dawn
Malina is a queer nehiyaw-ahpihtawikosisān iskwew (Cree Métis woman) who weaves together, the worlds of indigenous wisdom and yogic knowledge. Raised on the prairies and well travelled through her young adult years, she found her own healing path through Yoga and the Red Road.  Through reclaiming her culture and applying the…
Learn more about Malina Dawn