Ebb & Flow: Kayak & Yoga Immersion (June)
With Jolaine Boucher and Kai Harvey
June 2 - 7, 2023
Immerse yourself in the rhythms of the natural world and the ebb and flow of the Salish Sea. 
Hollyhock, located on the southern coastline of Cortes Island (on the unceded land of the toq qaymɩxʷ (Klahoose), ɬəʔamɛn qaymɩxʷ (Tla'amin), and ʔop qaymɩxʷ (Homalco) Nations) is an ideal basecamp and launch point for kayaking adventures. Against the stunning backdrop of Desolation Sound, explore the intricate and rugged coastlines of the Discovery Islands, searching for wildlife along the way. 
Each day will begin with mindfulness, meditation or yoga practice followed by kayaking. A new adventure awaits each morning as we explore nearby islands and coastlines. Aboard your kayak, learn basic safety and paddle techniques. Engage with local history and the Indigenous ways of life interwoven within these unique ecosystems. Watch for humpback whales, orcas, harbour seals, sea lions, and an abundance of bird life. Paddling closer to shore, explore vibrant intertidal ecosystems and the incredibly diverse organisms found within them. 
One evening after dinner, we will gather in our kayaks and experience the magic of bioluminescent phytoplankton, lighting up the water as we paddle under the stars. 
Meet the end of each day with a relaxing yoga session. Yoga classes will focus on strengthening postures and improving flexibility while working specifically with your individual needs. 
Designed for fun, rejuvenation, and education, this 5-day program will awaken your senses, enliven your body and deepen your relationship with self and nature. 
Schedule
Here is your program schedule.
Terms & Conditions
You may find our terms & conditions here.
Presenters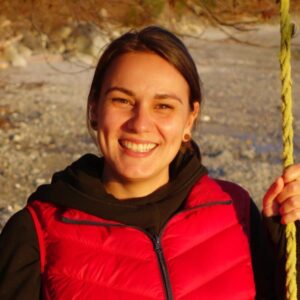 Jolaine Boucher
Jolaine Boucher is an outdoor enthusiast, yogi and wanderer. She grew up hiking, kayaking and exploring the East coast of Canada but found her home on Cortes Island in the Spring of 2016. She is passionate about the healing practices of time spent immersed in nature and in ourselves. She…
Learn more about Jolaine Boucher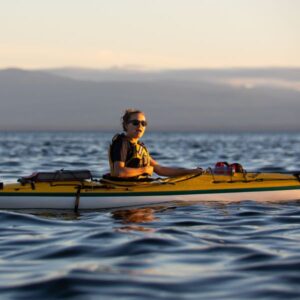 Kai Harvey
Kai Harvey has a deep love and appreciation for the sea and the natural world. Growing up on Cortes, she spent most of her time in the forest and on the water. While in university, Kai became a certified guide through SKGABC and worked for the tourism local company as…
Learn more about Kai Harvey