Write From Power: Accessing Your Stories
With Janelle Hanchett
June 29 - July 3, 2020
This program will either be moved to a virtual gathering, be rescheduled to another date in 2021, or cancelled. 
We are currently working out all the details. We apologize for the inconvenience and thank you so much for your patience, support, and understanding.
Sign-up to be notified when we have more information confirmed. You may also find details on Hollyhock's response to the COVID-19 pandemic here.
---
What do I do with my fear surrounding writing? How do I manage criticism? How do I show up on the page in my own, real voice?
There's a common idea that a person has to "overcome" fear before she can write, that she has to banish imposter syndrome before the muse can visit her. A large, mahogany desk void of all bad vibes (toys, laundry, overdue bills) also helps nudge creativity along.
I don't know anything about such ideal conditions. I'm a mother of four who started a blog while going to grad school and working part time. I wrote (mostly to my cousins) after my kids went to bed. I became known as the woman "saying things about motherhood we all think but don't have the guts to say," and yet, I've always been afraid. I've always suspected I'll be found out at any moment as "not a real writer," yet my first book was published in May 2018 and that blog has grown into a website with tens of thousands of regular readers.
I don't have any silver bullets or foolproof methodologies. What I have is my experience of finding some freedom outside the voices in my head.
In this retreat, we will explore writing in the face of fear, using our voices to say the things we want to say as we truly wish to say them, as opposed to the gentler, safer, more washed-down and thus unsatisfying way.
It's hard to say it as we see it. But luckily, we don't have to be unafraid. We have to lose faith in our fear. We have to develop patterns of thought that allow us to see things differently, to determine which outcomes are ours to own and which are the world's.
We have to know where we end and "they" begin so we don't waste our energy on reactions we can't control.
This retreat is for the writer who:
has a nagging question or persistent feeling of "I should write this," but isn't
can't decide what to write about
constantly hears the voice of: "You aren't very good. Why are you even trying?" when they sit down to
write
is too afraid to write what they're really feeling/thinking/experiencing
is agonizing over what people will think
is obsessing over perfection
wants a new, sustainable relationship with their writing practice.
Develop a new relationship with your writing practice. Explore concrete ways to write honestly in spite of fear, show up authentically on the page, and define for yourself the power of your unique story, voice, and perspective. Oh, and laugh. There will be laughing.
---
Janelle reads live "We don't start with needles in our arm" at BlogHer '14
Presenter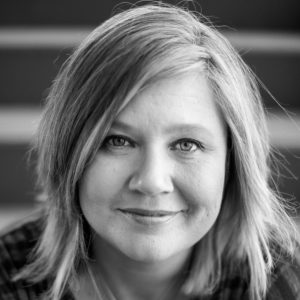 Janelle Hanchett
Janelle Hanchett is an author, editor, writing teacher, and mother of four. Writing after her kids went to bed, between graduate school classes, and on lunch breaks from her "real" job, Janelle founded her irreverent, unapologetic blog "Renegade Mothering" in 2011. Eventually her website grew to draw hundreds of thousands…
Learn more about Janelle Hanchett