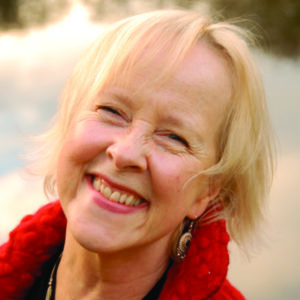 Chloë Goodchild is an international singer, innovative educator and acclaimed recording artist. She is the founder of The Naked Voice (1990) and its UK Charitable Foundation (2004), and author of "The Naked Voice, Transform Your Life through the Power of Sound" (North Atlantic Books) dedicated to the transforming practice of self-awareness and conscious communication skills, through spoken and sung voice. Chloe is also a Sounds True Author and Teacher on the Faculty of the Shift Network.
Deafness in childhood catalyzed Chloë's discovery of inner sound and silence. This deep encounter with her authentic self inspired a lifetime of experiential research into the voice as one of humanity's most untapped resources for personal and global evolution and transformation.
Chloë has sung several times for HH Dalai Lama and was the music director and composer of The Vagina Monologues with acclaimed playwright Eve Ensler. On the morning of September 11th, 2001, Chloë was flying from the UK to San Francisco when the tragic news of the World Trade Center came through. This gave birth to her Fierce Wisdom CD, and her world anthem Singing Field, which were performed at "Transforming September 11th" at the Royal Opera House London.