Song of the Drum, Dance of Life
With Gordy Onayemi Ryan and Zoë Ryan
July 24 - 29, 2020
This program will either be moved to a virtual gathering, be rescheduled to another date in 2021, or cancelled. 
We are currently working out all the details. We apologize for the inconvenience and thank you so much for your patience, support, and understanding.
Sign-up to be notified when we have more information confirmed. You may also find details on Hollyhock's response to the COVID-19 pandemic here.
---
Bumbamba!
Join us in a celebration of the 30th Anniversary of the music and dance of the Olatunji Drums of Passion at Hollyhock. Activate the fire in your hands, the beat in your feet, and the song in your heart on a soulful journey to the well of inspiration in our reunion at the Olatunji Hall.
Sing, dance, and play with Zoë, Gordy, Sanga, and Ade – the core of the Olatunji Drums of Passion. Everyone welcome!
---
Carlos Santana on Olatunji's influence on his and John Coltrane's music.

Presenters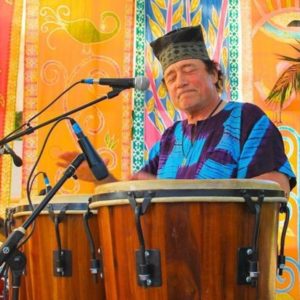 Gordy Onayemi Ryan
Gordy Onayemi Ryan has laid down the groove for the Olatunji Drums of Passion for decades as well as for Gabrielle Roth, Zhikr Rituals, movie scores (including Spike Lee and Eddie Murphy),and many more great artists in his career. obatheband.com Read my blog on Hollyhock Talks
Learn more about Gordy Onayemi Ryan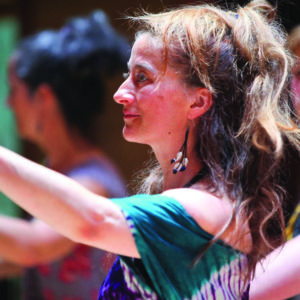 Zoë Ryan
Zoë Ryan has journeyed deep into modern, shamanic and West African dance. It is her joy to bring the transformative nature of dance to people of all ages. She trained in dance education at the Rudolph Laban Centre in London and has an early background in Shakespearean Theatre. She apprenticed with Gabrielle Roth and played extensively with Babatunde Olatunji and the Drums of Passion. obatheband.com Read my blog on Hollyhock Talks
Learn more about Zoë Ryan