Are you ready to supercharge your social venture and make a bigger impact? Social Venture Institute Hollyhock, taking place on Cortes Island from September 27 to October 1, is here! This year's event promises a lineup of interactive skill-building workshops that will equip you with the knowledge and strategies to drive meaningful change in your organization and community.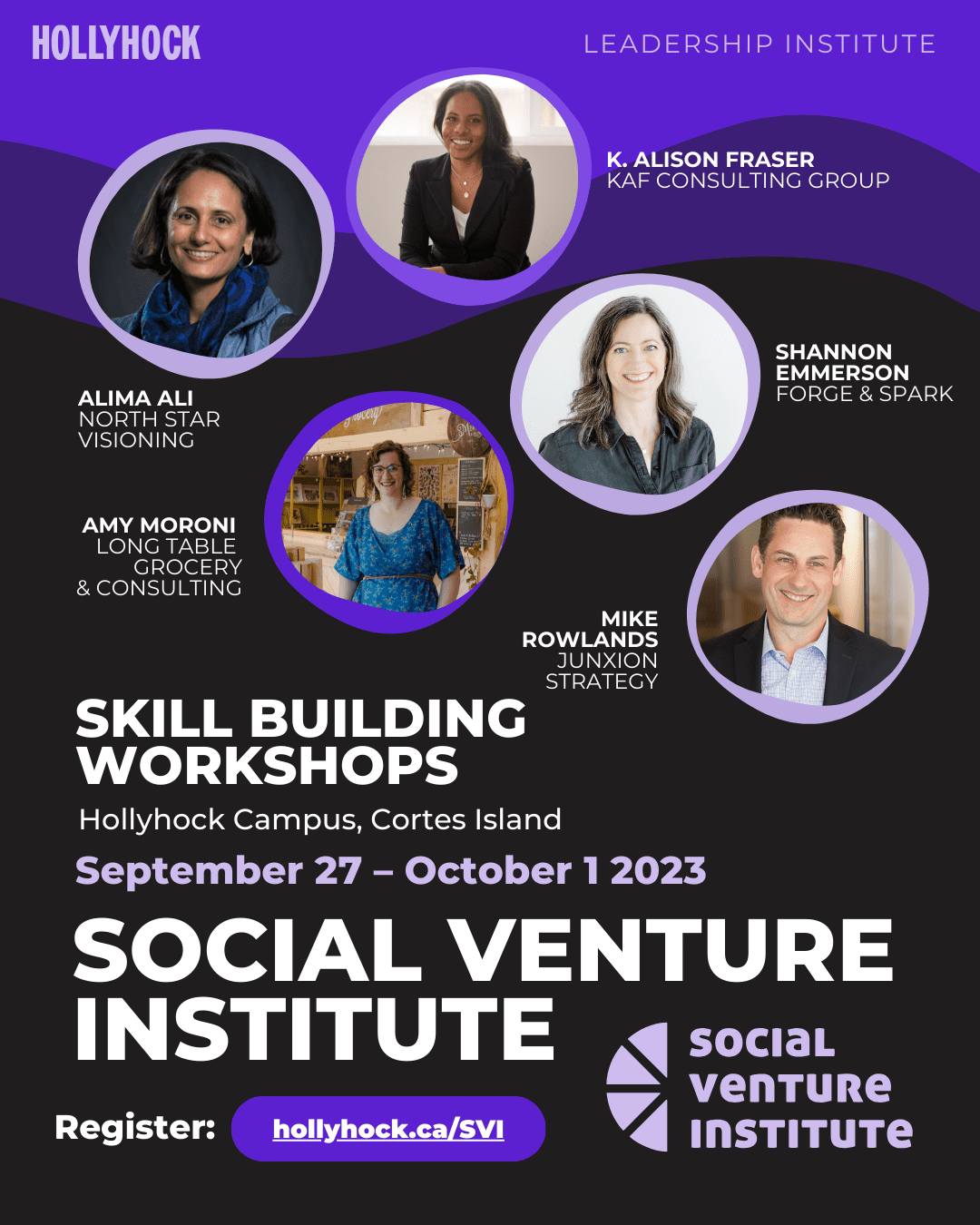 Agile Strategy for the Social Venture with Mike Rowlands, Junxion Strategy
Are you struggling to translate your ideas into real impact? Mike Rowlands from Junxion Strategy has the answers you need. In this workshop, he'll delve into the Turning Point™ approach, a unique blend of Agile methodologies, Appreciative Inquiry, stakeholder engagement, and systems thinking. This integrated model has already transformed ventures and purpose-driven organizations around the world. Discover how to develop a strategy that embraces change, aligns with your values, and empowers your leadership through growth and development.
Authentic and Actionable ESG in a Social Enterprise Context with K. Alison Fraser, KAF Consulting Group
Ethical, social, and governance (ESG) considerations should be at the forefront of every social enterprise's objectives. K. Alison Fraser's workshop will show you why ESG and diversity, equity, and inclusion (DEI) should be your top priorities. Learn how to make equity a cornerstone of your corporate strategy and shift belief systems to drive decisions using Cognitive Reframing. This workshop offers a pragmatic approach to embedding equity into your organization's DNA, creating an ESG-centered enterprise structure that truly makes a difference.
Finding Center in Uncertain Times with Alima Ali, North Star Visioning
In a world filled with volatility and ambiguity, maintaining your centre is essential. Alima Ali's workshop draws from Indian wisdom practices to help you find your grounding during uncertain moments. You'll learn practical techniques to align your will and heart, fostering resilience and enabling intentional responses to challenges. Say goodbye to reactive negativity and hello to empowered choices.
The Lens of Permaculture with Amy Moroni, Long Table Grocery + Consulting
Sustainability and efficiency are vital in today's world. Amy Moroni will guide you through applying Permaculture principles to your business, using Long Table Grocery as a case study. Discover how to audit your business systems using Permaculture best practices to create a more sustainable and efficient operation. Amy's extensive experience as an entrepreneur and community builder will provide you with invaluable insights.
Messaging and Marketing Strategies for Purpose-Led Leaders & Brands with Shannon Emmerson, Forge & Spark Media
Crafting marketing messages that align with your purpose can be challenging. Shannon Emmerson from Forge & Spark Media will help you strike the perfect balance. In this workshop, she'll walk you through a framework for creating brand marketing messaging that integrates purpose, values, positioning, story pillars, and key messages. Whether you're representing your brand or yourself as a leader, this session will empower you to create impactful messaging that resonates.
Along with these skill building workshops, SVI Hollyhock has a full line up of True Confessions Speakers, interactive Case Studies and immersive participant led programming. Book a spot on the SVI Mobile for stress free travel from Vancouver to campus! Registration is almost full, secure your spot now to elevate your social venture and drive meaningful change. Together, we can make a difference!