Founders + Friends
With Hollyhock Leadership Institute
August 1 - 4, 2019
Gather with Hollyhock founders and friends for a few wondrous summer days on the shores of Cortes Island. Celebrate Hollyhock's history of inspiring, catalyzing and training change-makers. Learn about current activities and explore future potential with a relaxed mix of culture, meaningful conversation and delightful meals. Hollyhock provides a unique contribution to the practical leadership skills this world so greatly needs, together we can broaden the impact of this work.
"What really touched my soul was the people. I had the unique honour of hearing and feeling the powerful words of the founders and friends and leaders of Hollyhock, who spoke to me in poetry and story about the creation of this powerful vortex on our planet of the mission of this convening space, and of the gift that it is for us all to be partners in supporting it. Thank you Hollyhock founders for opening my heart and mind and for the opportunity to be a part of supporting your vitality for the renewal of us all." – Joshua S. Fouts, Executive Director, Bioneers; Founders + Friends 2016 Attendee
Imagine prime summertime near the end of the road on the west coast of the continent, with swimmable aquarium like ocean waters and the divine fresh water lake swimming near by. Walk the powerful coastal temperate rainforest ecology of Cortes Island. If you've been, you know. If not, you are in for a lifetime experience treasure for you and your family. Children never want to leave!
"Our family has made Founders + Friends a part of our yearly summer schedule. We love the natural beauty of Cortes Island, engaging with the always-inspirational community that gathers at this event, and contributing to the future of Hollyhock; a place that has deeply nourished us both professionally and personally." – Chloe Gow-Jarrett, 3Fold Partners, Founders + Friends Attendee
On the last night of this event, Saturday August 3rd at 7pm, our annual fundraising soiree will be hosted by our Hollyhock neighbours Victoria and Ian Watson. At this enchanting evening under the stars, you will be able to connect over drinks and appetizers, enjoy heartfelt words and moving performances, and support Hollyhock's work to build a fair just and inclusive future. Please RSVP to the soiree here and invite your friends.
Presenter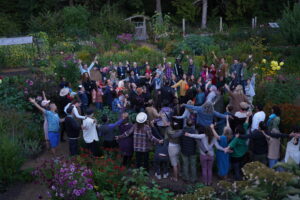 Hollyhock Leadership Institute
Hollyhock's renowned events help to resolve the leadership deficits of the modern world. These cross-sectoral and multi-generational gatherings work to support and catalyze progressive leaders through strengthening skills, expanding capacity, and building peer-to-peer networks and knowledge. Tackling the largest issues of our time and promoting social and environmental justice requires…
Learn more about Hollyhock Leadership Institute