From Point-and-Shoot to Brilliant Photography
With Dr. Charles Steinberg
August 4 - 9, 2019
Due to low enrollment this program has been cancelled 
Experience the ecstasy of living each breath with your camera, in a stunning location, amid inspired peers. Train your eyes to always be watching the light, your mind's eye to be pre-visualizing, your heart clarifying intentions, and your brain sorting technological adjustments.
Master the magic of light, techniques of composition, and telling of story. Make quantum leaps in skill and creativity with a fun, supportive group. Follow the magical light of Cortes Island and create a personal body of work.
Sessions will be spent out taking pictures, finding art in nature, reviewing new areas of learning, supporting each other's growth and gently and constructively critiquing each other's work. Visit deep secret places in the forest, beautiful beaches at sunrise and sunset, the signature Hollyhock Garden and sites on campus and the island where people and activities blend into fascinating images.
New and experienced photographers welcome. All equipment and devices welcome, including iPhones and smartphones. This course also welcome teens, who have been an integral part of the course in past years.
Presenter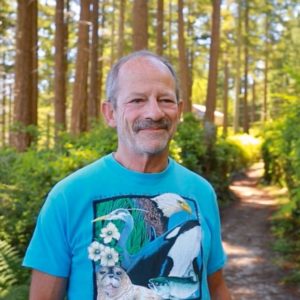 Dr. Charles Steinberg
Charles Steinberg, MD, is a published photographer who teaches in Colorado and BC. He has published several beautiful books including Hollyhock Moments and From Point and Shoot to Brilliant Photography. He is a Hollyhock co-founder whose photos are often found in the Hollyhock catalogue. charlessteinbergphotography.com Read my blog on Hollyhock Talks
Learn more about Dr. Charles Steinberg