Activate Altitude: Registration
With Hollyhock Leadership Institute
November 14 - 16, 2023
A strategic gathering for executive leaders in the progressive movement 
Activate Altitude brings together a cohort of senior progressive decision-makers serious about sharing resources and developing strategies. Together we will explore problems of today, and spend time zooming out to advance a shared vision over 5-10 years. The goal is to cohort-build and drive a stronger collective agenda. 
Who it's for: 
Activate Altitude is focused on progressive Canadian executive leaders in Labour, Advocacy, and Technology. It will include 10 labour leaders (directors and above), 10 national advocacy leaders, and 7-10 digital leaders who hold strategic vision in the progressive sector.

What you can expect
Practical problem solving:

The format is highly interactive and experiential. We'll dig deep into challenges, power mapping, and actionable strategies that can be applied right away to accelerate your agenda. 

Connected cohort:

Deep relationship-building comes from peer coaching circles, facilitated discussions, and rich connection time. Hollyhock's "whole-person" approach results in lasting relationships.

Unique format for out-of-the-box results:

Arts-based facilitation and a somatic approach help participants to discover new mindsets and innovative solutions.



Program outcomes:
Develop trusting, collaborative relationships with fellow executive-level leaders in the progressive movement

Discuss shared problems, align on shared vision for our movement, and collaborate on cross-sector solutions

A starting point for creating a long term vision and strategy for the progressive Canadian movement
Dates:
November 14-16th

Tuesday & Wednesday 9am – 9pm, Thursday 9am – 2pm

Online touchpoints following the program
Location:
McMichael Canadian Art Collection, Vaughan, just outside of Toronto

Located on the lands of the Ojibwe Anishinaabe and Huron-Wendat People
What's included:
World-class facilitation for strategic visioning

Deep relationship-building to support longterm relationships

Supported cohort following the in-person gathering 

Lunch, dinner, and snacks during the program 
Facilitators:
SARA EL-AMINE PhD 
A progressive senior strategist who was one of the architects of the Obama grassroots movement, playing key roles to pass and implement healthcare reform, minimum wage, marriage equality, gun violence prevention, and climate protections.
KHARI MCCLELLAND
An award-winning musician and creative facilitator who uses the arts and experiential activities for transformational learning. Khari helps leaders explore core values and creativity as a means to self-actualization, community building and problem solving. 
HOLLYHOCK LEADERSHIP INSTITUTE
Hollyhock is a not-for-profit organization that creates meaningful experiences that provide both the inner and outer skills for personal growth and social transformation. Our vision is to achieve a future where people live in right relationship with ourselves, each other, and nature; understanding that these are intricately connected
If  cost is a barrier to your participation, please contact us at [email protected] to discuss bursary opportunities
Presenter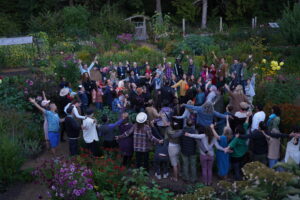 Hollyhock Leadership Institute
Hollyhock's renowned events help to resolve the leadership deficits of the modern world. These cross-sectoral and multi-generational gatherings work to support and catalyze progressive leaders through strengthening skills, expanding capacity, and building peer-to-peer networks and knowledge. Tackling the largest issues of our time and promoting social and environmental justice requires…
Learn more about Hollyhock Leadership Institute