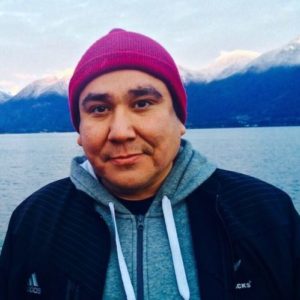 Clayton Thomas-Müller, of the Mathais Colomb Cree Nation in Northern Manitoba, is an activist, writer, public speaker, facilitator and activist for indigenous self-determination and environmental justice. Working as co-director of the Indigenous Tar Sands Campaign of the Polaris Institute, as North American native energy organizer and tar sands campaign organizer for the Indigenous Environmental Network, and as an organizer with the Defenders of the Land Idle No More campaign, he has been on the front lines of stopping industrial society's assault on Indigenous Peoples lands.
Growing up in Winnipeg and familiar with inner-city realities, Clayton began his work as a community organizer for Aboriginal youth, gaining vast experience in grassroots movement building, fund raising, strategic campaign planning and policy development. He co-founded the Aboriginal Youth with Initiative organization (AYII) and served as its executive director for two years. He was co-founder of the Assembly of Manitoba Chiefs Youth council as well as the architect behind the National Assembly of First Nations National Youth. In his role as a national youth spokesperson Clayton was instrumental in the creation of a 350 million dollar funding stream known as the Urban Aboriginal Youth Multi Purpose Center Initiative (UMAYC), sponsoring hundreds of Aboriginal youth initiatives across Canada.
Clayton has repeatedly led Indigenous delegations to lobby United Nations bodies at international conferences as well as governments in Washington, Ottawa, and in the European Union. He campaigns across Canada, Alaska and the lower 48 states with grassroots indigenous communities to defend against sprawling pipelines, refineries and extractions related to the exploitation of tar sands. He has also collaborated with Canada's National Aboriginal Health Organization to further advance health care delivery and health education for Aboriginal peoples.
Involved in multiple initiatives working toward an inclusive movement for energy and climate justice, Clayton serves as a board member of the Global Justice Ecology Project, the Collective Heritage Institute, Raven Trust and Black Mesa Water Coalition. He was recognized as a "Climate Hero" by Yes! Magazine in 2009, and has been named one of the United States' top 30 activists under 30 by Utne Magazine.
A guest lecturer at universities, conferences and seminars around the world, Clayton has been published in numerous books and publications and has appeared in media broadcasts internationally as an expert advocate on Indigenous rights and on environmental and economic justice.
Also a poet and rap artist, Clayton lives in Ottawa with his wife and two sons.