Emotional Freedom Techniques (EFT) Levels 1-2 (Vancouver)
With Alina Frank & Dr. Craig Weiner
October 4 - 6, 2019
Learn EFT, the most sought after energy psychology approach on the planet. Emotional Freedom Techniques or "The Tapping Techniques" are used by millions of people worldwide.  These techniques can quickly and effectively resolve dysfunctional feelings, thoughts, behaviours and beliefs which can lead to challenges in relationships, health, right livelihood and disease. Drawing from the fields of interpersonal neurobiology, neuroplasticity, and epigenetics, and supported by peer-reviewed research, this powerful mind-body approach is easy to learn and implement.
Clinical EFT has now been researched sufficiently to demonstrate its effectiveness in a variety of conditions ranging from Depression, Anxiety,  and PTSD, for which meta-analyses have demonstrated significant effect sizes. Over 50 randomized control studies have now been published and EFT has also demonstrated effectiveness for physical pain, food cravings, weight loss, reduction of fears/phobias, stress, and more. EFT has been recommended as a safe therapy of choice for PTSD by the US Veterans Administration. In 2018, The College of Registered Psychotherapists of Ontario, Canada (CRPO) lists EFT under Somatic Therapies in its list of Categories of Prescribed Therapies.
This training is designed for those serious about learning this method with a focus on professionals who wish to learn/integrate or practice this technique with others. So whether you are a coach, a licensed mental health care provider, an acupuncturist, bodyworker, DC, PT, or looking to become an EFT practitioner, this work will empower you to more effectively work with the stressful emotional and even traumatic components of a variety of complaints. CEs are available for a variety of professions including 21 CE hours approved by the CCPA (Canadian Counselling and Psychotherapy Association) for Canadian based practitioners and for US Social Workers, Licensed Marriage and Family therapists, Nurses, and Licensed Professional Counselors/Licensed Mental Health Counselors. This training is the first required step for EFT certification
Training outcomes include:
Understanding the steps to developing the most effective wording to use while tapping
Identifying questions to ask which uncover core issues, limiting beliefs and lead to specific events to which EFT can be applied
A range of approaches for working with specific issues and how to troubleshoot when it looks like it's not working
A variety of testing methods to verify results of the application of EFT
Application of EFT methods to work with cravings, phobias, pain, and trauma and how to troubleshoot challenges

This program is accredited with 21 CEC hours from the Canadian Counselling and Psychotherapy Association.
Presenter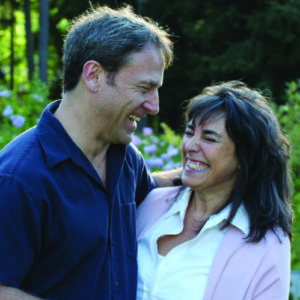 Alina Frank & Dr. Craig Weiner
Alina Frank and Dr. Craig Weiner, DC, are internationally respected EFT trainers, lecturers, and authors. They are the producers of the film project, The Science of Tapping (scienceoftapping.org). Together they train and mentor coaches and health care professionals around the world. They are also the happily married couple who run successful online programs at Learningtofindlove.com. efttappingtraining.com Read my blog on Hollyhock Talks
Learn more about Alina Frank & Dr. Craig Weiner