Earth Mate, Soul Mate
With Alina Frank & Dr. Craig Weiner
July 3 - 7, 2019
Your Earthmate-Soulmate is defined as the person who is ideally suited to make your daily life satisfying and easy, and who also happens to be the person you were pre-destined to meet and be with. Learn to design, attract/find and keep your "happily ever after" in this first of its kind behavioural program with sixteen years of success.
Along with other singles in the program you'll:
• Discover, clarify and articulate your unique desires
• Let go of baggage from past relationships that prevented you from meeting "the one"
• Eliminate the emotional stress, frustration and angst of finding and forming a new relationship
• Save years from potentially being on a dating treadmill or in dead-end, going nowhere relationships
• Walk away with a clear vision and scorecard to track your progress in magnetizing a happy relationship with your best friend and partner
Over the last sixteen years, graduates of this program have enjoyed a 98% success rate of having met "the one" within two years of the course. They also enjoy a 1% divorce rate compared to the national 50% divorce rate because their choices are based upon a solid foundation of smart decision-making, coupled with a healthy dose of self-care and self-love. Upon completion you'll know precisely who your Earthmate-Soulmate is and how to systematically go about attracting them.
This program is for single people who are looking for monogamous, lifelong romantic partners.
Presenter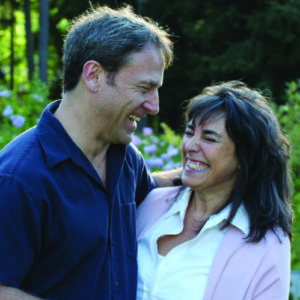 Alina Frank & Dr. Craig Weiner
Alina Frank and Dr. Craig Weiner, DC, are internationally respected EFT trainers, lecturers, and authors. They are the producers of the film project, The Science of Tapping (scienceoftapping.org). Together they train and mentor coaches and health care professionals around the world. They are also the happily married couple who run successful online programs at Learningtofindlove.com. efttappingtraining.com Read my blog on Hollyhock Talks
Learn more about Alina Frank & Dr. Craig Weiner