'HOCKSHOPS Unpacking Systemic Racism: Making Meaning of this Moment (Free, Online)
With Hollyhock Leadership Institute
June 8, 2020
With the grief and outrage over innocent Black lives lost in the US to race-based violence, what is our role? Black, Indigenous, and other racialized people in Canada are also at a much greater risk of not only police violence, but a host of other problems due to systemic racism and white supremacy. What does this mean for each of us, and what can we do? Join us for an emergent conversation with a panel of speakers to listen, learn, feel, and make a plan for action.
PANEL INCLUDES:
Kim Haxton, a Potowatomi First Nations woman, is a co-founder of Indigeneyez and a multifaceted, multidimensional land-based educator.
Parker Johnson, a black man, has been working in the field of harassment and discrimination prevention, workplace equity and inclusion, conflict resolution and organizational change for over 15 years in Canada.
Sofia Robledo Rower, a queer, white Latina

 from New York City

, 

is 

a community herbalist, a

n organizer, an abolitionist

 and facilitator. and is committed to 

the work of recognizing and destroying white supremacy and racial capitalism.
Rup Sidhu is a first generation punjabi man, an interdisciplinary artist and facilitator whose work meets at the intersection of social justice and the arts. For the past 25 years he has been growing his understanding of anti-oppression and liberation based practices.
Karen Mahon Carrington, a white woman, is Hollyhock Board Vice Chair, lifelong environmentalist, trainer, and creator of Climate Hope.
This is a free online event. You also have the option to donate, with 100% of proceeds going to Black Lives Matter Vancouver
---
'HOCKSHOPS are mini interactive workshops that are currently being hosted online on Zoom. These virtual sessions will be chock full of 'how-to' practical tools and resources to help you navigate change, build resilience and take charge of your self-care. Sessions will be hosted by a Hollyhock team member and feature different presenters.

Zoom is a video conferencing tool that you may download for free. You will need a device with speakers, microphone, video, and internet connection. A link will be emailed to participants upon completion of your registration (please double-check your Spam folder for this email).
Please come on time, and plan to stay for the full 75 minutes. Once you login to the link, you will enter a "waiting room." We will then admit everyone at the start time of 5:15pm Pacific Time.
Join our virtual e-mail list here to stay 'in the know' with all our online offerings: hollyhock.ca/virtual
Presenter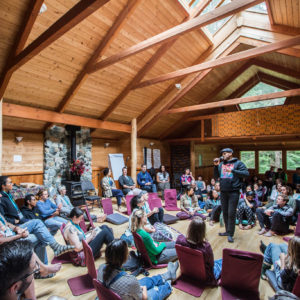 Hollyhock Leadership Institute
Hollyhock's renowned conferences help to resolve the leadership deficits of the modern world. These cross-sectoral and multi-generational gatherings work to support and catalyze progressive leaders through strengthening skills, expanding capacity, and building peer-to-peer networks and knowledge. Tackling the largest issues of our time and promoting social and environmental justice requires that we come together to not only learn hard skills and share lessons, but also to rejuvenate our passions and recharge. Joining our conferences opens up access to like-minded networks and community that support one another throughout the year. Past conferences include: Social Venture Institute, Activate: Digital Leadership, Creating a…
Learn more about Hollyhock Leadership Institute