Social Venture Institute 2024 – Hollyhock (Registration)
With Hollyhock Leadership Institute
September 18 - 22, 2024
Exciting News! SVI 2023 is officially sold out, and we're overwhelmed by the incredible response from our enthusiastic participants. Thank you for your tremendous support.
But don't worry if you missed out this time because SVI 2024 is just around the corner! We encourage you to mark your calendars for September 18-22nd 2024, set your goals, start budgeting for the trip or get ready to submit your scholarship application when they open up and prepare for another transformative experience. SVI is all about elevating your impact, connecting with like-minded leaders, and fostering innovation in the world of social entrepreneurship.
Stay tuned for updates on SVI 2024, as we're gearing up to make it even more inspiring as we near the milestone year of nearly 30 years of SVI gatherings. This is your chance to join a dynamic community of purpose-driven leaders, so don't miss out. We can't wait to have you with us in the next chapter of SVI!
Register now and lock in your tuition and accommodations at 2023 rates announcements and take advantage of early registration discounts. Together, we'll continue to create positive change and make a difference. See you at SVI 2024!
Presenter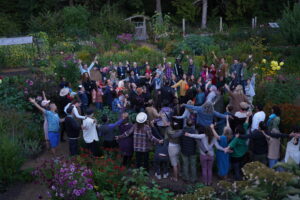 Hollyhock Leadership Institute
Hollyhock's renowned events help to resolve the leadership deficits of the modern world. These cross-sectoral and multi-generational gatherings work to support and catalyze progressive leaders through strengthening skills, expanding capacity, and building peer-to-peer networks and knowledge. Tackling the largest issues of our time and promoting social and environmental justice requires…
Learn more about Hollyhock Leadership Institute