Activate: Digital Leadership
With Hollyhock Leadership Institute
June 5 - 9, 2024
Thank you so much for your help in making Activate Digital Leadership 2023 a success! Mark next June in your calendars for Activate: Digital Leadership 2024.
---
In this digital leadership training conference, we bring together the sharpest digital minds from political and advocacy campaigns, labour unions, creative agencies, and causes for four days of hard-skills training in digital leadership, strategy and tactics.
Gain bold clarity on how to intelligently activate your organization from the inside, and crack the code to engaging your target audience to win campaigns, raise money, and hit your goals.
"Incredibly valuable to my own growth – will give value to my work in many ways for years to come." – Candace Jazvac, Activate 2018 Participant
Why Activate?
There are enough conferences to talk about the problems we need to solve, but there aren't a lot of places to get in a room and learn how to use the tools to win.
Activate is all about practical training. Selecting the right combination of tools, designing and executing a strategy to win.
Who is Activate for?
Activate is for progressive digital practitioners. You might be a digital director at an advocacy organization, a content writer at a political party, an organizer at a labour union, or a senior leader who tries to bring all these pieces together. You might work with clients to deliver great digital campaigns, or build new technology.
Activate participants come from a wide variety of professional backgrounds with varying amounts of digital experience. But we share a commitment to building digital capacity among progressives in Canada, sharing our learnings with each other, and lifting each other up.
"This was a remarkable experience. I feel rejuvenated both physically and intellectually. My whole time here has been mind blowing." – Chris Parri, Activate 2018 Participant

"The first Activate was a life changing experience for me – I made incredible, lasting friendships, and a new career." – Previous Participant, Activate
Hollyhock is working to make sure our conferences and events are accessible and valuable to diverse communities. We welcome and encourage applicants who will bring diversity to Activate, including but not limited to diversity of gender, race, ability, sexual orientation, and class. We know that important, exciting, and innovative digital work is happening on the margins. At Activate, we will hold up, support, and provide a platform for / share this work.
Schedule
Visit here for the agenda and speaker details. A detailed schedule will be available 1-2 weeks in advance of the program.
Terms & Conditions
You may find our terms & conditions here.
Health & Safety
Learn more about Hollyhock's current health & safety policies here.
Presenter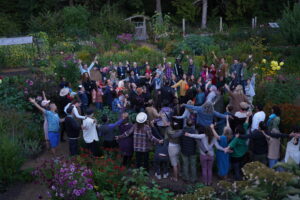 Hollyhock Leadership Institute
Hollyhock's renowned events help to resolve the leadership deficits of the modern world. These cross-sectoral and multi-generational gatherings work to support and catalyze progressive leaders through strengthening skills, expanding capacity, and building peer-to-peer networks and knowledge. Tackling the largest issues of our time and promoting social and environmental justice requires…
Learn more about Hollyhock Leadership Institute