Hollyhock Explore & Discover
With Hollyhock Leadership Institute
July 5 - 9, 2023
Discover the magic of the Discovery Islands and Desolation sound. Immerse yourself in a four day exploration of Cortes Island's rich natural beauty and history. Guided nature hikes, ocean adventures, and local lore will leave  you salty, windswept, and in awe of this spectacular and delicate part of our world.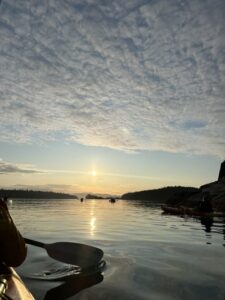 Your Package Includes:
Four Nights of accommodation at Hollyhock (see campus rates).
Three meals daily from our organic kitchen, menus inspired by the seasons of the garden and designed to bring you closer to the land and sea.
Sailing charter cruise into Desolation Sound, where you can watch for whales, porpoises, sea lions, and seabirds all while learning about the history of the area.
Guided sunset or nighttime kayak adventure. Watching the sunset over the surrounding islands from the sea is an unforgettable experience. Nighttime kayak trips are moon phase dependent and reveal a secret fairy world under the water.
Two Guided Nature hikes with renowned Hollyhock Naturalist Bill Ophoff
Guided tide pool hike with Friends of Cortes Island Society, where you will learn about the beautiful creatures that live in our intertidal beach areas.
Guided tour to a local experience, visit the museum, Linnaea Farm, or a local island event.
Guided Hollyhock Garden Tour
Guided Ocean cold plunge and Hot Tub experience
Evening Star Gazing
Schedule
Here is your program schedule.
Terms & Conditions
You may find our terms & conditions here.
Presenter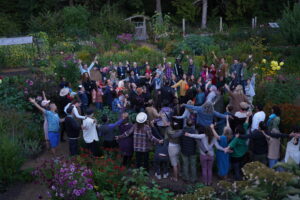 Hollyhock Leadership Institute
Hollyhock's renowned events help to resolve the leadership deficits of the modern world. These cross-sectoral and multi-generational gatherings work to support and catalyze progressive leaders through strengthening skills, expanding capacity, and building peer-to-peer networks and knowledge. Tackling the largest issues of our time and promoting social and environmental justice requires…
Learn more about Hollyhock Leadership Institute