2023 Canadian Psychedelic Summit (Application)
With Hollyhock Leadership Institute, Kim Haxton and Orane Cheung
August 16 - 20, 2023
The psychedelics field is experiencing rapid and exciting growth in Canada and abroad. As we stand on the precipice of establishing a regulated market for medical access, Hollyhock invites leaders to pause, connect, and create a vision for the future fitting of the revolution that psychedelics promise.
After a successful first year, the Canadian Psychedelic Summit is now back for its 2nd annual gathering. The Summit continues to bring together leaders across sectors to explore a vision for psychedelics in our nation centered around equity and ethics. We will offer a container to have the challenging conversations facing our field. Beyond envisioning the future of psychedelics, participants will co-create how we wish to do this work, inviting a community of shared commitments and accountability.
What to Expect
Led by facilitator and ceremonial practitioner Kim Haxton, our time together will center the embodied knowledge of Indigenous peoples, creating space for ceremony, storytelling, and connection with ourselves, one another, and the natural world. With these foundations in place, we will lean into tough conversations facing the psychedelic landscape, creating a movement for the future.
The Canadian Psychedelic Summit offers five days of inspiring talks, structured group and breakout sessions, as well as unstructured time for socializing, rest, and community connection. This three-year project will meld in-person gatherings with continued engagement of cohorts of those attending.
Over five days, our curated community of participants will:
Create connections and develop relationships across diverse sectors and perspectives
Contemplate a short and long-term vision for psychedelics in Canada, leaning into challenging conversations with trust and goodwill
Create shared agreements about how we wish to shape the psychedelic industry, with equity at its core
Who Should Attend
This interdisciplinary Summit welcomes individuals from the psychedelic community as a whole. We truly want this to be an opportunity where voices from a wide range of stakeholder groups are present to help bring to life a long-term vision for psychedelics in Canada that is representative of all Canadians.
We invite people working across research, not-for-profit, public health, underground, market, government and other communities to bring their valuable experience and knowledge to this interdisciplinary space.
With a key outcome to shape a more equitable field, we encourage in particular participants from equity-denied communities to attend, including folks who identify as BIPOC, LGBTQ2S+, neurodiverse, physically disabled, and those seeking economic equity. Scholarships are available to support participation.
Hollyhock ensures gatherings and events are accessible and valuable to diverse communities. We welcome and encourage applicants who will bring diversity to the Summit, including but not limited to diversity of gender, race, ability, sexual orientation, and class. We know that important, exciting, and innovative work is happening on the margins.
Given the limited number of spots available to attend in person, participation is by application, which will be curated by the Core Team who will review applications to reflect the most diverse and representative community possible. We encourage you to apply soon to be considered for early admission; applications are reviewed on a rolling basis and space is limited! The early application deadline is June 18.

Participate from Afar
Even if you aren't able to attend in person, we want to invite you to share your voice. Stay tuned for opportunities to contribute your vision, as well as how we'll share what happens at the gathering.
Schedule
2023 schedule coming soon. You can view the 2022 schedule here.
Partnership Opportunities
We are inviting a limited number of organizations to join as Sponsors of the event. As a sponsor of the Canadian Psychedelic Summit, you are actively building a vision for psychedelics in Canada founded on principles of decolonization, inclusion, justice, equity, human rights, and public health.
For more information or to express an interest please reach out to Penelope Naldrett, Hollyhock Development Director at [email protected].
Terms & Conditions
You may find our terms & conditions here.
With special thanks to our Advisory Committee:
Dr. Pamela Kryskow is a medical doctor with a strong interest in chronic pain, mental health and psychedelic medicine. She is a clinical instructor at UBC and adjunct professor at VIU. She is the Medical Director of the Vancouver Island University Post Graduate Certificate in Psychedelic Medicine. She is one of the founding board members of the Canadian Psychedelic Association. Dr Kryskow is actively involved in research related to psilocybin, MDMA, ketamine, front line health care workers and first responders mental wellness. She is co-investigator on the largest microdosing study Microdose.me which is ongoing with 15000+ enrolled participants. She is the medical lead on the Roots To Thrive Ketamine and Psilocybin Assisted Therapy Programs that treats health care providers and first responders with PTSD, depression, anxiety, addiction and people with end of life distress. In real life she loves hiking in the forest, ocean kayaking, growing kale and daydreaming in the hammock. Her heritage includes Polish, Ukrainian, and German. She currently resides in the traditional unceded territory of the Klahoose First Nations.
Raad Seraj is a Bangladeshi-Canadian entrepreneur and founder of Mission Club, an angel investor network and education platform supporting startups addressing mental health using psychedelics. He also runs Minority Trip Report, a podcast showcasing underrepresented perspectives in psychedelics and mental health. During the day, he leads growth at Affinity, a San Francisco-based startup providing AI tools for private capital. Raad spent over a decade in climatetech and social impact. He founded one of the world's first technology accelerators for water and created am immersive backpacking program that taught global sustainable fashion entrepreneurs about the fashion supply chain in Bangladesh. As an artist and advocate for underground culture, Raad founded Anda Residency, a non-profit that explored urban issues through immersive storytelling. He has a background in molecular biology and was once a host for MuchMusic (Canada's MTV).
Stó:lō from Sts'ailes Nation and Tsimshian from Metlakatla Nation, Francine Douglas values and upholds the cultural teachings she has learned from her family. Francine has a diverse career in mental health, traditional medicine, business and cultural tourism. Francine works with Sacred Circle, supporting their vision for a healthcare system that honors Indigenous knowledge and ancestral traditional medicine. Francine holds a Bachelor of Arts degree in psychology and anthropology from the University of British Columbia and a certificate from the Ch'nook Indigenous Business Program. As an advocate for the rights of Indigenous people, Francine's considers her work with Sacred Circle one of the most powerful ways to support First Nations people in preserving their traditional knowledge, promoting cultural healing practices and reconnecting to their traditional territories.
Alycia Fridkin is an equity and anti-racism health policy activist who has been working in public health and harm reduction settings for over two decades. Her drug policy work has included overdose crisis response, decriminalization, access to safe supply, and engaging people with lived experience in decision-making. She also supports organizations and governments in addressing systemic racism, disrupting white supremacy, and meaningfully involving Indigenous peoples in health policy. Alycia is a queer Jewish White settler living in Vancouver, BC on the unceded homelands of the Musqueam, Squamish and Tsleil-Waututh Peoples.
Presenters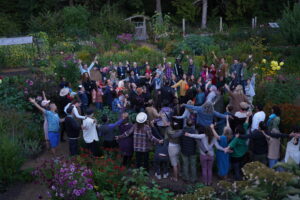 Hollyhock Leadership Institute
Hollyhock's renowned events help to resolve the leadership deficits of the modern world. These cross-sectoral and multi-generational gatherings work to support and catalyze progressive leaders through strengthening skills, expanding capacity, and building peer-to-peer networks and knowledge. Tackling the largest issues of our time and promoting social and environmental justice requires…
Learn more about Hollyhock Leadership Institute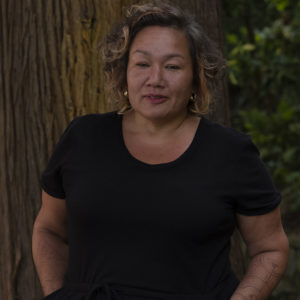 Kim Haxton
Kim Haxton (Potowatomi) is from the Wasauksing First Nation in Ontario. She has worked across Turtle Island and abroad in various capacities but always with a focus on local leadership. Her deep understanding of the need for genuine restoration has far-reaching implications as leaders seek vision and all people seek…
Learn more about Kim Haxton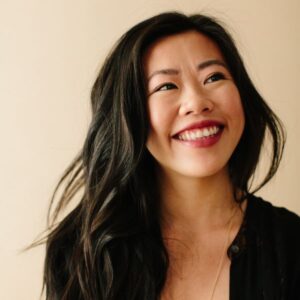 Orane Cheung
Orane Cheung is a creative communications professional with a diverse background in event production, marketing, and operations. Born and raised in Canada, she has Chinese heritage and parents from Hong Kong. She currently resides in Vancouver and is building psychedelic-assisted therapy programs at Qi Integrated Health to support people with…
Learn more about Orane Cheung