The Good Easy
With Aisha Sasha John
June 25 - 30, 2023
Let's practice doing what only we can do—giving expression to our unique experience of reality, of being, by reporting, in movement or writing, that which is there, immediate, necessary, urgent, haunting, pleasurable—that which increases comfort, that which the system, our organism, us slash we, desires.
The good easy is the response indistinguishable from listening. Let's elect to receive and pay attention to what arises from the quiet. We don't have to do anything or make anything or be other than what is here—we don't have to perform our successfulness, our virtuosity, our intelligence, our innovation—we don't have to labour in the service of impressing the police we project onto the audience, reader, other. We don't have to labour under orders of the police within: that is the bad easy. The bad easy is pretend. The good easy knows us as perfect, as possible, as ready, as beautiful—the good easy understands the creative wealth of turning one's mind towards and into our body, to opening our mind to bearing witness to itself—giving voice to our fullness one moment at a time. Letting go into the dance of what could not but be.
We'll explore the good easy—which, essentially, is an orientation of mindfulness—as movement and writing scores. The good easy is an opportunity to bring loving-kindness to the core of your creative life.
"Aisha moving at the pace of presence and honesty made space for me to get into a real, vulnerable and honest performance of being… My performance practice has been deeply nourished by this workshop." Past Participant
Schedule
A detailed schedule will be available 1-2 weeks in advance of the program. View sample schedule here.
Terms & Conditions
You may find our terms & conditions here.
Presenter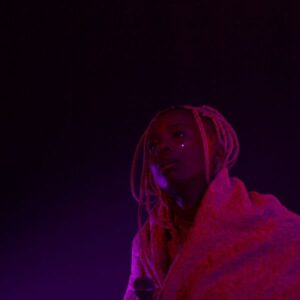 Aisha Sasha John
Aisha Sasha John is interested in choreographing performances that are occasions for real and multitudinous actions of love. John recently premiered her first ensemble work, DIANA ROSS DREAM (Danse-cité) which was developed during her 2019-2022 Dancemakers choreographic residency. Her full-length solo work debuted as the aisha of oz at the…
Learn more about Aisha Sasha John