Courageous Spaces & Cultural Intersections: Movement and Your Cultural Compass
With Heidi MacPherson
September 22 - 26, 2023
Cultural intersectional pedagogy teaches us to live in a courageous space, the space that marginalized and stateless individuals survive in every day. What are cultural intersections and how do we navigate diversity through mindful, thoughtful, and courageous living?
Create and develop your Cultural Compass that guides you towards holistic living and wellness practices that bring clarity to cultural traditions, offering pedagogical tools to merge these practices meaningfully within your own socio-cultural diversity. Map and explore your inner compass incorporating the Great Elements, the Five Directions, the Vayus, Meridians, and the Archetypes that embody the energy currents of the natural world.
Each living being holds a unique resonance, a web of diverse lived experiences that express individual sound, harmony, and rhythm. Honour, ground, and experience this diversity through movement accompanied by Heidi's harmonium, harp, and percussion. Heidi juxtaposes modes with tonality, explores primordial rhythms and listens to the pulse of your movement to inspire your cultural compass.
Expect movement, breath, ceremony, circle sharing, journalling/sketching to create your Cultural Compass. Movement and breath practices incorporate Yoga tradition, East Asian philosophy, and Indigenous earth wisdom. Experience and embody your inner compass with skillfully guided movement, breath practices and Yoga Nidra.
Heidi is an eternally valued friend, colleague and teacher. She has taught me that sitting with discomfort and asking hard questions is how we can truly learn about ourselves and one another. When I attend Heidi's classes I feel supported. Her teaching is intentional and skillful, but it is the broad range of students in the room that delivers a true sense of inclusive community. Heidi actively supports diversity and inclusion by identifying where there are barriers to practice and tirelessly works to minimize them. Heidi has had a marked influence on my life both personally and professionally, and I am grateful for her past, present, and future presence. – Jacky Challenger, Coastal Bliss Yoga
Schedule
A detailed schedule will be available 1-2 weeks in advance of the program. View sample schedule here.
Terms & Conditions
You may find our terms & conditions here.
Presenter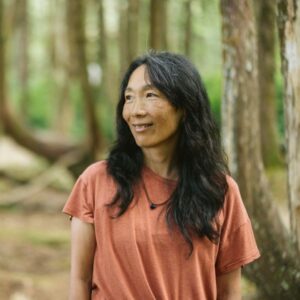 Heidi MacPherson
Heidi MacPherson was born on Jeju Island, now part of South Korea but historically, independent and deeply rooted in its own island culture with a distinct language and culture. Jeju Island, specifically the Haenyeo (free diving women of the sea) is listed in UNESCO'S "Intangible Cultural Heritage" with less than…
Learn more about Heidi MacPherson