Social Venture Institute – Hollyhock (Application)
With Hollyhock Leadership Institute
September 27 - October 1, 2023
Let's build a just economy together. Gather with mission-driven, change-making CEOs, entrepreneurs and investors who are using business as a source for good in the world. Get connected at Social Venture Institute Hollyhock 2023! 
If you believe that business can (and should) be a catalyst for social and economic transformation, apply now to join us at Social Venture Institute (SVI) Hollyhock 2023. We host gatherings that help changemakers advance their businesses through experiential learning, skill sharing and powerful conversation. Be part of a big-hearted, socially-minded ecosystem of people who are using business as a source for good in the world. 
Anyone who has ever done something meaningful will tell you the hardest part is evolving yourself to meet the demands of your vision. SVI helps you grow as a person so you can advance your enterprise.
At SVI:
Share innovative ideas to help improve the way you manage, promote, and finance your businesses and projects
Build a stronger sense of community, cooperation, mission, and effectiveness
Experience the deep rejuvenation integral to the learning journey
This program is for CEOs, Executive Directors, Founders, key staff, social entrepreneurs, and emerging leaders of all kinds.
About SVI:
For more than 25 years, SVI has been hosting gatherings of socially-minded CEOs, entrepreneurs, changemakers and investors. Our attendees create and scale successful businesses, solo-preneurships and movements aligned with humanity and the planet. We know that to create significant global transformation, change-minded people need to come together in trusting spaces to share ideas, resources and inspiration. Done right, business can be a meaningful source for good. 
This artfully-facilitated gathering invites you to find the balance, inspiration and connections you need to propel your mission forward. It offers deep human connection, powerful conversations, problem solving, experiential learning, skill sharing and generous doses of laughter. 
Our flagship gathering, SVI Hollyhock, is an annual five-day oceanside gathering of CEOs, entrepreneurs, changemakers and investors who are using business as a source for good. Join a growing community and ecosystem of people who, like you, care about humanity and the planet, and see the need to transform how business and society function.
SVI Hollyhock is hosted on the majestic south shore of Cortes Island, the traditional and unceded territories of the Klahoose, Tla'amin and Homalco First Nations. You'll journey across land and water, arriving at a serene, oceanfront campus that sets the tone for a dynamic, restorative, capacity-building conference that will fuel you and your organization.
"I feel like my soul has landed back in my body! My intention for this week was to feel "less alone" in the work I'm trying to do and SVI delivered! There ARE people who think like me and want to make a difference! The land here has a palpable vibration, sleeping in my tent I felt myself recharging each night up in the forest. Thank you to SVI for the soul recharge!" Eryn, SVI Hollyhock 2022 
The SVI Ecosystem

Once you've attended a Social Venture Institute gathering, you're invited to be part of the SVI ecosystem, a lively, highly-engaged community that you can call on whenever you need. Think of it as a vast trove of support, connections, and resources you can trust.

Maybe you're seeking advice on a legal matter or HR best practices. Maybe you need a new accountant or business coach. Tap into the SVI ecosystem for advice and connections from changemakers like you.

The changes before us cannot be navigated individually. Each one of us must tap into different ways of learning, knowing and being together in society to usher in global transformation. This is why the SVI ecosystem exists. Applications are now open for SVIW (Online) and SVI Hollyhock 2023, apply now and join us this September 27 – October 1 on Cortes Island. 
---
Intentionally Designed to Foster Growth
The format of SVI is highly interactive and experiential. Participants present their business problems to a panel of experienced business leaders and fellow participants. In return, they receive advice, tools, and resources to strengthen and grow their enterprise in a socially conscious way. Based on evaluations and testimonials, participants uniformly reflect that SVI is one of the best investments they've made in growing their social purpose enterprises.
Supportive and Experienced Network
The combination of high quality mentors, a confidential and supportive environment, and a practical problem-solving format enables participants to acquire a rich portfolio of skills, a plan to grow their social purpose organization, and a network of contacts to support their enterprise. SVI participants are first or second-stage entrepreneurs who face challenges in growing an enterprise while maintaining a social mission.
Unique Format for Out of the Box Results
Take advantage of this opportunity to fine tune business strategies, learn best practices for solving problems, and build long lasting relationships with business peers and mentors. Get direct feedback for your current business challenges from a faculty of successful socially responsible enterprise leaders. Hear inspiring True Confessions – personal stories from experienced entrepreneurs and their struggles to reach success combining social mission with business.
"SVI for me was full of surprises. While I anticipated the learning and programming, what I found remarkable was being surrounding by so many truly authentic individuals." – Stephanie Vellins, Harris & Company
For more information about SVI Hollyhock, click here.
Presenter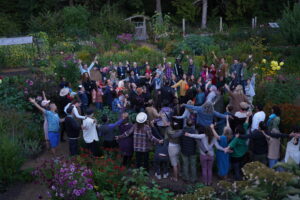 Hollyhock Leadership Institute
Hollyhock's renowned events help to resolve the leadership deficits of the modern world. These cross-sectoral and multi-generational gatherings work to support and catalyze progressive leaders through strengthening skills, expanding capacity, and building peer-to-peer networks and knowledge. Tackling the largest issues of our time and promoting social and environmental justice requires…
Learn more about Hollyhock Leadership Institute