Earth Wisdom, Horse Wisdom: A Nature Retreat with Horses
With Oriane Lee Johnston and Elke Finley
September 12 - 15, 2021
How long has it been since you felt kinship with life beyond your own? What does it mean to truly learn from another species? Come journey into the heart of nature with horses as our wayfinders.
Horses naturally attune moment-by-moment to changes in each other and in their environment. Being in their presence rebalances humans, too, by bringing the energy fields of our hearts and brains into a state of coherence–that's why being around them feels so good. A herd teaches us the practice of equanimity–equine-imity–to stand "in the middle of all" with true composure. Within a community of horses, we learn how to strengthen our resilience, love and wise action in response to the challenges of our life and the world today.
On a beautiful Cortes Island farm, our field days include breath and body meditations, joyful play with the horses on the ground, quiet reflection with the herd and hands-on, up-close connection.
Everyone welcome.
Growing up on dairy farms, I did not fully appreciate what being in harmony with animals really meant.  These new experiences with horses have softened my heart and allowed me to see horses as collaborative partners.  My world slows down and I am aware of what it means to be in the moment, focused only on our communion, whatever we're doing together. – Robert B.
Related Programs
This program is sold out but we are offering it again September 26-29, 2021. Click here for more info.
Schedule
You may find a full program schedule here.
Terms & Conditions
You may find our terms & conditions here
---
In this video, Oriane Lee listens to wildlife trackers Clever & Jamie, in Zimbabwe, about their Equine Guided Learning session with her. 
In this video, Oriane Lee introduces the foundation practice, body awareness in nature, of Equine Guided Learning.
Presenters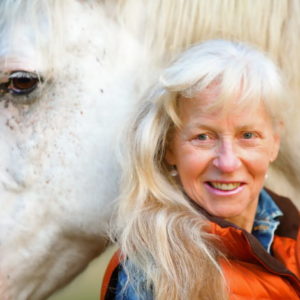 Oriane Lee Johnston
Oriane Lee Johnston brings natural horsemanship, spiritual guidance and her years as former program director for Hollyhock to her work as educator and mentor. Horse journeys have taken her riding in the sacred mountains of Ecuador and volunteering with horses in Africa. whitehorsesanctuary.com orianelee.com Read my blog on Hollyhock Talks P.C.…
Learn more about Oriane Lee Johnston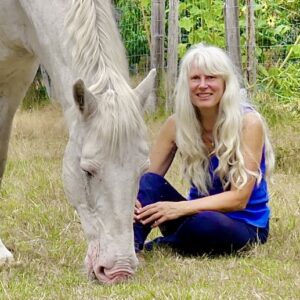 Elke Finley
Elke Finley comes to horses through her practice of intuitive healing and shamanic energy work. She has worked with women and children in crisis and supported adults with severe disabilities. Her signature Walk & Talk in Nature sessions grew out of a decade living in the mountains with her sons…
Learn more about Elke Finley