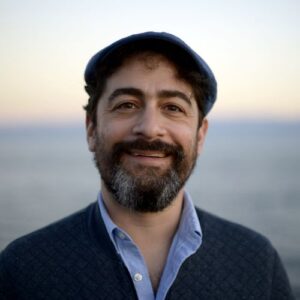 Daniel Maté is an award-winning musical theatre dramatist, songwriter, and educator based in Brooklyn, NY. He holds an M.F.A. in Musical Theatre Writing from Tisch/NYU. In 2017/18 he served as lead instructor for Vancouver's first ever Musical Theatre Writers' Workshop and was a writer in residence at Touchstone Theatre. As guest artist for British Columbia, he contributed original music and lyrics to The Dream Catchers, a Canada-wide youth theatre piece that toured nationally in 2017 and was performed for Prime Minister Justin Trudeau as part of the 'Canada 150' celebration in 2017.
Daniel's original musicals include The Trouble With Doug, Hansel & Gretl & Heidi and & Günter, and The Longing and the Short of It. Projects in development include a noir musical for pre-teens called Middle School Mysteries and an adaptation of Russell Banks's novel The Sweet Hereafter. Daniel's work has been produced and/or presented at the Kennedy Center for the Arts (DC), Lincoln Center (NYC), and in locations from California to Florida, Vancouver to Prince Edward Island, and Paris to Denmark. He is the recipient of the prestigious Edward Kleban Prize for Lyrics, a $100,000 award given annually to the "most promising lyricist in American musical theatre", as well as a Jonathan Larson Grant and the ASCAP Foundation's Cole Porter Award for Excellence in Music and Lyrics.
With Dr. Gabor Maté, Daniel is the co-author of The Myth of Normal: Trauma, Illness, and Healing in a Toxic Culture, out this Fall from Knopf Canada. The father-son pair have collaborated on the Hello Again workshop since 2016, leading programs in Vancouver, Toronto & New York; a book version is currently in progress. Daniel also runs the world's only "mental chiropractic" service, Take A Walk With Daniel, and is the host of the YouTube program "Lyrics To Go".
danielmate.com // walkwithdaniel.com // youtube.com/c/LyricsToGoShow
Twitter/Insta: @danielbmate