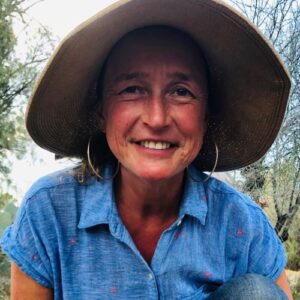 Jasmyn Clift has been a Clinical Herbalist since 1996, and is the Founder and nurturer of the Compassion Roots Wellness Center, the largest non-profit holistic health clinic in North America. Jasmyn is an engaging teacher, who generously shares her experience treating acute and chronic illnesses with ethical herbs and flower essences. Jasmyn trains all levels of herbal students at the Wild Seed School of Herbal Studies and as a visiting teacher in places far afield.
Jasmyn is deeply committed to providing excellent quality medicine by wildcrafting and growing many of the herbs she finds the most useful. Her teachers include a wide variety of herbalists. She has studied with Michael Moore, Adam Seller, the Edward Bach Centre, James Green, Rosemary Gladstar, James Snow, and David Hoffman. Most of all she has learned from her clients and from the plants themselves.
Jasmyn's happiest times are when an animal companion is dozing by her feet while she is teaching, and students are furiously scribbling notes about amazing herbal allies she is grateful to know.