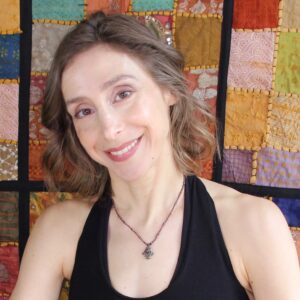 Alexandra Jai hails from Santiago, Chile and is a hand drumming and yoga teacher, rhythm and movement facilitator and performer with over 30 years of experience.
Initiated in her teens into the healing power of the drum by Nigerian master drummer Olatunji Babatunde, Alexandra plunged heart-first into the study of hand drumming, learning traditional West African, Afro-Cuban, Brazilian and Middle Eastern drumming from master percussionists across the globe.
Called to share the healing she'd received, in 2003 Alexandra co-founded Rhythm Bliss (formerly "Drum Mama Studios") where she began integrating hand drumming instruction with yoga philosophy, mindful movement and breath practices. She has since shared her passion for Mindful Hand Drumming and Movement with tens of thousands of students worldwide through the Rhythm Bliss program.