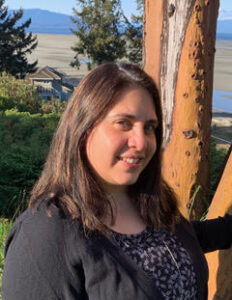 Ana Ferrari, MC, RCC, is a Registered Clinical Counsellor with BCACC in private practice who brings over 15 years of extensive experience in the mental health and personal growth fields. She offers mentoring and intuitive life coaching, as well as counselling in English and Spanish.
Using a trauma-informed lens, Ana provides a warm and welcoming space for clients; supporting adults dealing with trauma, anxiety, low-mood or depression, relationship challenges, grief and loss.
Ana uses a holistic and integrative approach to counselling that includes mindfulness, breath work, resiliency enhancement and other evidence-based modalities. She has specialized training in Trauma Therapy and Mindfulness-Based Somatic Therapy, which facilitates healing through the integration of mind, body, and emotions.