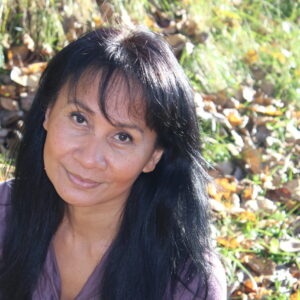 Ratha Chek, MA, CYT, RCC, is a Body Psychotherapist, artist, and developer of Mindfulness-Based Somatic Therapy®. She bring over 20 years of clinical experience and insight in the healing of trauma into her therapy, training, and mentorship programs. Ratha's approach to healing is body-centered and soul-based; addressing psychological, emotional, physical, and spiritual needs of individuals in therapy.
Mindfulness-based Somatic Therapy® is an approach to healing trauma which intuitively integrates practices in mindfulness, breathwork, yoga, somatic and body-oriented processing designed to enhance the body's own capacity to heal and reclaim hope.
Over the years, Ratha has worked within diverse women-centered community organizations providing therapy and support to women with extensive histories of trauma, high-risk interpersonal violence, and sexual assault. She is an active Women's Rights advocate, committed to anti-oppression and equity; it is her life's intention to assist women to move towards healthier ways of coping, relating, and living.