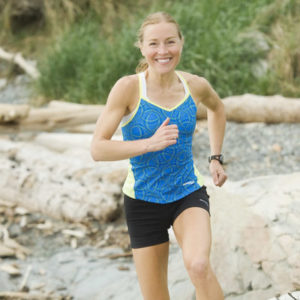 Marilyn Arsenault is a competitive runner, mentor and and has been coaching runners since 2010. She is the founder of Mindful Strides; a series of clinics that helps runners improve their form. Since then she has established herself as an effective teacher in functional movement working with both recreational runners and Olympic and national level athletes and teams including Triathlon Canada and Rowing Canada.
Marilyn took up running in her mid thirties and within five years of dedicated training she was considered one of Canada's top distance runners. Considered a late arrival to the world of competitive long-distance running, she's proudly represented Canada at the national and international levels and has taken home championship titles on all surfaces: track, road and cross-country. Now in her 50's, she continues to challenge the record books and to reshape perceptions of what Masters athletes can achieve. Marilyn currently holds the 50 – 54 Canadian record in the 5km (17:43) and 45-49 records in the 3000m (9:44), 5000m (16:50), 10,000m (34:22) and marathon (2:40:19).
Marilyn's experience at the top of her field, her hands-on approach to teaching and her passion for seeing her runners improve, makes her creative coaching accessible, fun and focused.