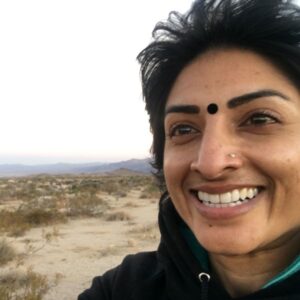 Meenadchi (pronouns: Meenadchi/they) is a facilitator and somatic practitioner whose work centers the softness of our shadows as we deepen into our light.
Meenadchi's movement work began first as a performer and dancer, shifting into the mental health and trauma sector through suicide prevention, rape crisis advocacy, and daily functioning/skill-building for folks with serious mental illness and complex trauma histories. Meenadchi's primary modalities are Non-Violent Communication, Family Constellation Therapy, and craniosacral therapy. Meenadchi is the author of 
Decolonizing Non-Violent Communication
.