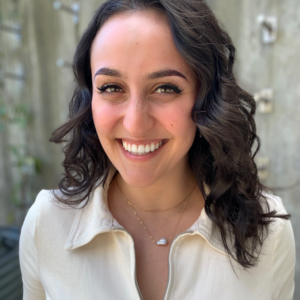 Becca Schwenk (she/they), CPO, is an innovator who thrives when applying her creativity to justice-centred work. Becca is currently kvelling (verb, present participle: feeling happy and proud) about her recent creation of Bakau's 3-month Facilitation Certificate Program, which runs annually. Her honed skills of note include relationship building, transformative consulting, people leading, and anti-oppressive business advising. With 10+ years of experience in anti-oppression, she is all about deep and meaningful analyses of injustice paired with innovative solutions.
Becca completed her bachelor's degree at McGill University, majoring in both Sociology and Gender, Sexuality, Feminism, and Social Justice (GSFS). She conducted research for the West End Sex Workers Memorial History Project; organized mutual-aid project Shiva Delivers; worked in support centres for unhoused youth and survivors of sexual assault; and led within feminist ride-hail startups in Australia and Canada. As Bakau's first employee, Becca's contributions are central to the company's evolution.
With her blend of business, nonprofit, and grassroots entrepreneurial experience, she doesn't intend to stop shaking up the status quo any time soon. You can frequently find Becca slipping social justice tidbits into everyday conversation; ready to engage free of judgement and full of empathy.