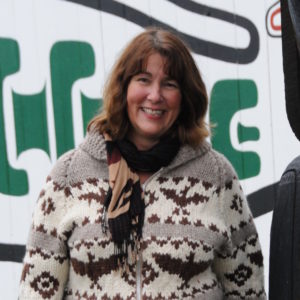 Kathi Camilleri, (Métis-Cree) is a cultural safety practitioner and workshop facilitator. She created and facilitates the Building Bridges through Understanding the Village © workshop to increase cultural competency for organizations across Canada.
She has almost 25 years of leadership experience in facilitating, counselling, developing, directing and coordinating Aboriginal community-based programs. She has facilitated and managed culturally-based strategic planning sessions, conflict resolution and counselling strategies for groups and individuals, developed community workshops to create understanding and support for families who are experiencing the generational effects of the trauma of residential schools, and has developed networking circles to bring service providers together and to increase cultural competency.
Kathi's work has been inspired by Jann Derrick's teachings of 'The Circle and The Box' along with the input and teachings of many, dear Elders who often co-facilitate with her. Kathi has certificates in Re-enactment Therapy for Trauma Survivors, Cognitive Behavioural Therapy (CBT) for Trauma, and Dialectical Behavioural Therapy (DBT), and holds a Master of Arts in Leadership. Her thesis, Returning Home to the Values of the Village focused on the revival of culturally-based values in order to increase collaboration among staff within an Aboriginal service-providing agency.