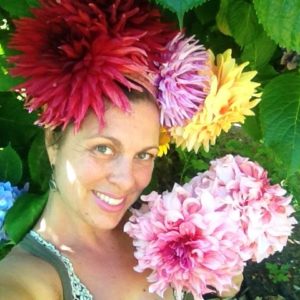 Gem's gardening journey began when she was a little girl digging (and eating) dirt and learning about plants from her mom. She grew up in rural settings, tree planting camps throughout remote Canadian landscapes, farms, tents, hauling water and harvesting wild berries… the earth is close to Gem's heart.
Gem has managed the large and long established organic gardens at Yasodhara Ashram yoga retreat centre, as well as private gardens, walk-in forest gardens, and she tutors gardening to beginners as well.
Seed collecting and plant rescue have been lifelong passions. Currently her personal plant forays are growing medicinal plants and heritage seeds. She hopes to acclimatize unique, rare and nourishing food and flora plants to the Pacific Northwest growing climate. Gem is also a visual artist, writer and filmmaker and approaches gardening as another form of artmaking. Her interest is in the poetics of gardening, and that each garden ecosystem is a creative living expression of every unique gardener.
Tune in to some of Gem's Garden Tips on our blog!