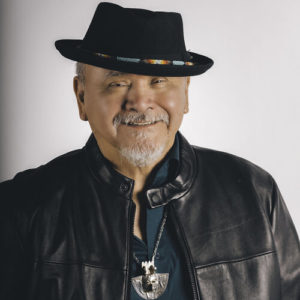 "My name is Willard (Buddy) Joseph – Skwetsimeltxw is my ancestral name, handed down through my late father. I've grown up on Squamish Nation Lands and have learned our Squamish ways from my Elders, my three great grandmothers. They were born in mid to late 1800's and never went to residential school. They are my direct connection to pre-contact knowledge of our Squamish world view. I also had my grandmothers and mother who also handed down teachings and history of the Squamish peoples. I've also had the opportunity to grow up with teachings from many Elders from many of our communities who shared words to live by."
Skwetsimeltxw is also a master weaver and the former Director of Housing & Capital Projects for Squamish Nation. In 2017, he co-authored 2017 "Salish Blankets – Robes of Protection and Transformation, Symbols of Wealth" with his wife Chief Janice George and Lesley Tepper, PhD.
Learn more about his cultural work at weavinghouse.com.
Link to Buddy Joseph's video introduction here.