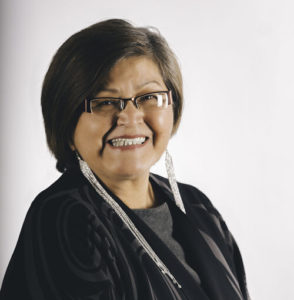 Chief George is grateful to have had many spiritual, cultural and scholarly mentors. She continues to focus on integrating culture into all facets of her work and life. She carries teachings from many including her grandmother Kwitlut t, Lena Jacobs who was directly connected to pre contact times through her grandparents, and other teachers and mentors, all who have now passed on to the next life.
Chief George's working life started with Squamish Nation interviewing Elders of the day 44 yrs. ago. This work has continued to recent projects interviewing and filming Elders.
George knows "In my short time in weaving and learning life, my mentors have left this earth, their breathe is carried on in the teachings I pass on. I see the strength our ancestors had. Importantly, their brilliance in ensuring their descendants are cared for, planning for our future, and loving the people who are yet to come. Cherishing, respecting and appreciating each and every persons contribution to our success." Chepximiya Siyam' is also a master weaver and author.
Learn more about Chief George's work at weavinghouse.com.
See Chief George's inspiring video explanation about M̓i tel'nexw Leadership Transformation.