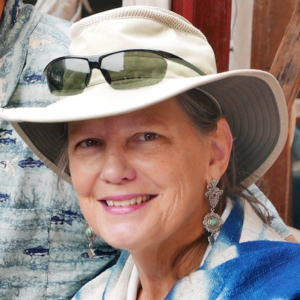 Pat Moffitt Cook, PhD, is the founder and director of the Open Ear Center in Santa Fe, New Mexico. She is a distinguished pioneer in the field of sound and cross-cultural musical healing applications in healthcare and education. She is a teacher, consultant, clinician, and author.
Dr. Cook has extensive training and certifications in auditory stimulation and sensory integration methods including the Tomatis Method and the Listening Fitness Program (LiFT). She is a Fellow of the Association of Music and Imagery (FAMI) and certified in the Bonny Method of Guided Imagery and Music (GIM). Pat is a certified Vedic Chant teacher by
the Krishnamacharya Healing and Yoga Foundation (KHYF) and a certified teacher in Vedic Healing Chant by the Krishnamacharya Yoga Mandiram (KYM) both institutions are in Chennai, South India.
Pat trained six years with a Chinese/Indonesian grandmaster of martial and healing arts in Indonesia and the United States. Afterwards, she researched musical healing with a North Indian Hindu village healer near Varanasi for over a decade. She presents internationally at university, medical, music and sound therapy conferences in applications of sound technology, auditory stimulation methods, indigenous musical healing traditions and Vedic chant.
For over 40 years, Pat has traveled the world recording, filming and participating in musical healing rituals of other cultures.