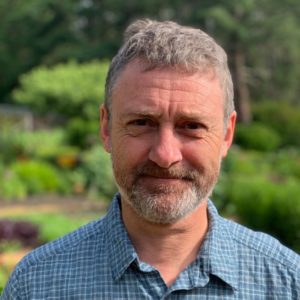 Julian Griggs is one of the Founding Principals of the Dovetail Consulting Group based in Vancouver, BC and has more than 25 years' experience as a facilitator, trainer and management consultant. Julian has worked with conservation groups, First Nations, the philanthropic sector, all levels of government, industry and communities in Canada, in the western US and in southern Africa.
Over the last two decades, Julian has also been providing adult training in group facilitation, leadership and conflict resolution. He has also designed and facilitated numerous multi-party collaborations in recent years, providing behind-the-scenes facilitation and strategic support for high profile initiatives such as the Great Bear Rainforest campaign, the Muskwa Kechika Advisory Board, and the Taku land use plan and shared decision-making agreement.
Julian's practice has focused on multi-party, collaborative processes, particularly those related to planning and public policy, and including topics such as land use, resource management, climate change and energy, government-to-government agreements, and organizational development. Julian has served as an Adjunct Professor at the University of British Columbia and is currently an Associate with Simon Fraser University's Centre for Dialogue.